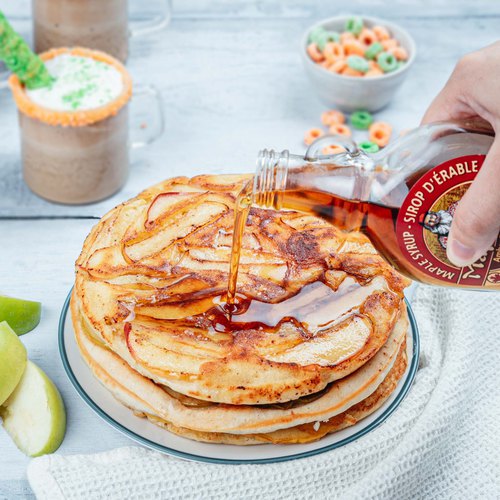 Apple Cider & Coffee Slushie
Apple Cider & Coffee Slushie! Served with pancakes & apple jack straws 😁🥞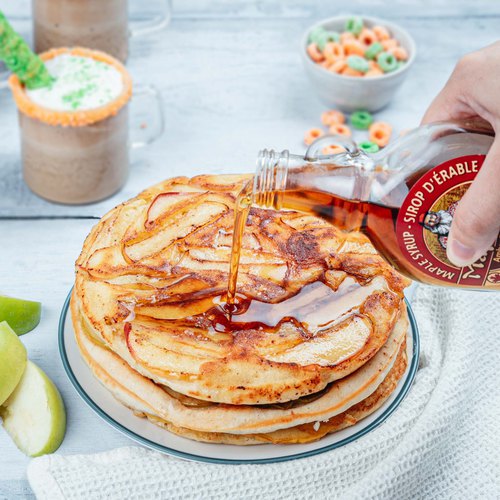 ---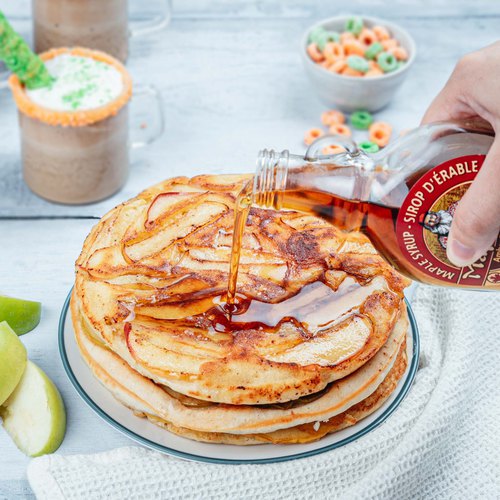 ---
Total time: 3 hours 10 minutes
Cook time: 10 minutes, Rest time: 3 hours
Ingredients for 3 people
1 box of apple jacks cereal
16 oz of white chocolate
1 1/4 cups of flour
1 tsp of baking soda
1 tsp of baking powder
1 pinch of salt
1 egg
1 1/4 cups of buttermilk
6 apples
Hard apple cider
2 cups of frappuccino
Whipped cream
2 tbsp of butter
Maple syrup
---
Tools
Skewers
Blender
Mandolin
Ice cube trays
---
Step 1/4
Take a skewer and place 20 pieces of apple jacks cereal. Brush with melted white chocolate. Allow to set then coat with a second layer of chocolate. Roll in crushed cereal and place in the fridge.
Step 2/4
Mix the flour, baking powder, baking soda and salt in a bowl. In a separate bowl, combine the egg and buttermilk. Add to the flour mixture and stir until smooth. Add the melted butter and sugar into flour mixture. Using the mandolin, carefully slice whole apple slices for the pancakes.
Step 3/4
Add butter to pan and allow to melt. Add a layer of apples to completely cover the bottom of the pan and allow to cook for 2-3 minutes. Bring the heat to low and pour your pancake batter on top of the apples. Cook on both sides until golden brown. Top with butter and maple syrup.
Step 4/4
Dip the rim of a cup into melted white chocolate and then roll in crushed apple jacks. Set aside. Using 2 ice cube trays, fill 1 with the frappuccino and the other with the hard apple cider. Toss in apple pieces to each ice cube tray and freeze. Place ice cubes in blender and blend until smooth. Serve immediately in prepared glass topped with whipped cream and the apple jack cereal straw. Enjoy with the pancakes!