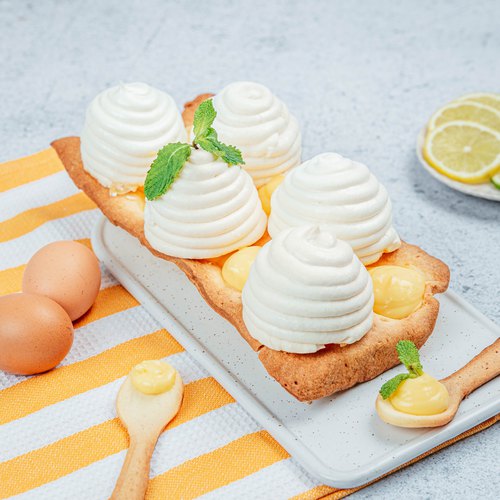 Lemon Meringue Egg Carton
Lemon Meringue Egg Carton! A zesty new dessert 🍋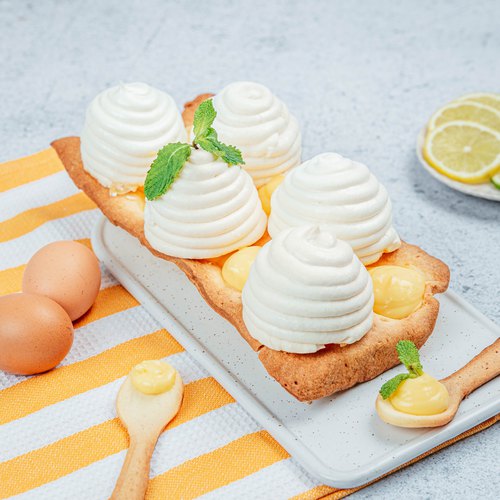 ---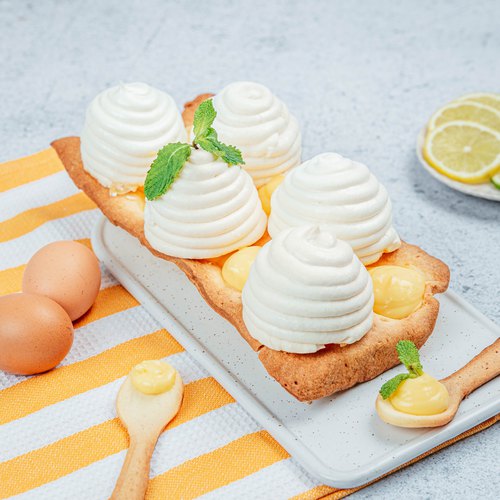 ---
Total time: 6 hours
Prep time: 45 minutes, Cook time: 5 hours 15 minutes
Ingredients for 5 people
Lemon zest
2 shortcrust pastry
7 egg
1.3 cups of sugar
3 tbsp of water
3/5 cup of milk
3 egg yolks
0.3 cup of butter
0.4 cup of lemon juice
3 tbsp of cornstarch
---
Tools
Egg carton
Aluminum foil
Cling wrap
Electric hand mixer
Thermometer
Piping bag
---
Step 1/5
Crack 5 eggs so as to keep half of the shells and separate the white from the yolks. Clean the eggshells and wrap them in cling wrap. Place them on a baking tray. Pour 5 tbsp of sugar and the water into a saucepan, then cook to 245°F to obtain a syrup. Beat 0.4 cup of egg whites until stiff and gradually add the syrup to obtain a meringue. Put the meringue mix in a piping bag and pipe it over the eggshells, forming a spiral. Pipe 5 circles with the rest of the meringue mixture on the baking sheet. Bake for 5 hours at 195°F.
Step 2/5
Place the bottom of an empty egg carton on a baking sheet, wrap it in foil and place the shortcrust pastry on top with the parchment paper. Wrap 2 eggs in cling wrap, press down on the shortcrust pastry to shape it, then add lemon zest.
Step 3/5
Cut 4 strips in the second shortcrust pastry, place a teaspoon on each strip, cut out the edges and remove the excess pastry. Place a spoon of dough between two teaspoons and place it on the baking sheet. Repeat the process to obtain 4 teaspoons. Bake for 15 minutes at 350°F.
Step 4/5
Pour the milk into a saucepan, add the lemon zest and let it heat up. Mix 3 egg yolks, the remaining sugar and the cornstarch. Pour in lemon juice, the milk gradually and mix with a whisk until you obtain a cream. Add the butter cut into small pieces, mix and allow to cool to room temperature. Put the lemon cream in a piping bag. Take out and unmold the meringue shells, fill them with lemon cream and add the lime zest. Place the meringue circles on each shell.
Step 5/5
Remove the cooked shortcrust pastry from the egg carton and place it on a dish with a few slices of lemon and lime. Pipe the remaining lemon cream into each hole of the shortcrust pastry box, add the lemon zest, place the meringues and small shortcrust pastry spoons. Serve and enjoy!