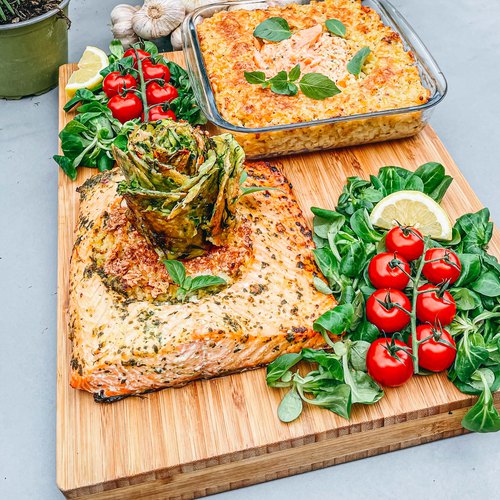 BBQ Salmon & Macaroni
BBQ Salmon & Macaroni! With a zucchini and mozzarella flower 😃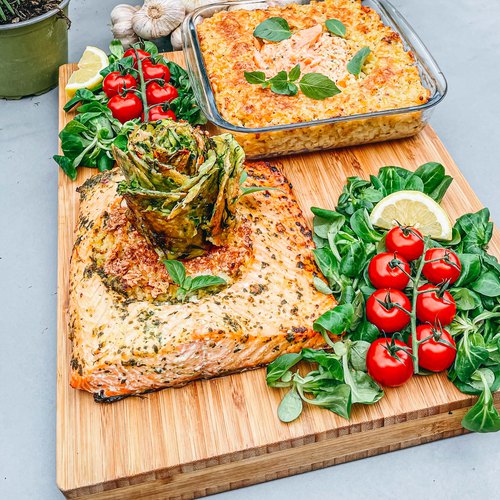 ---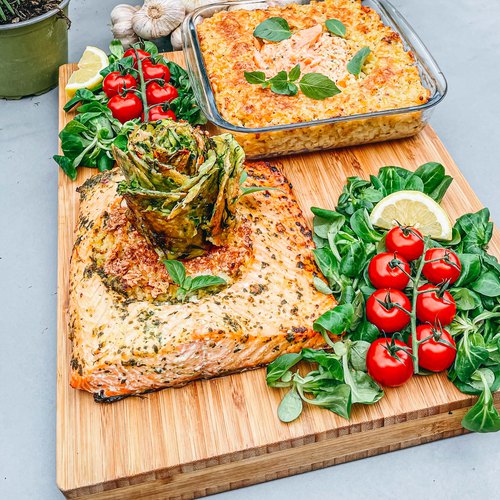 ---
Total time: 1 hour 15 minutes
Prep time: 30 minutes, Cook time: 45 minutes
Ingredients for 4 people
9 oz of mozzarella
2 zucchinis
Thyme
Bay leaves
11 oz of macaroni
5 oz of parmesan
3/5 cup of bechamel sauce
1.1 lbs of salmon
1 lemon
2 tbsp of mustard
0.4 cup of olive oil
Herbs
---
Tools
Small round cookie cutter
---
Step 1/3
Cook the macaroni and bake it in the oven with the béchamel sauce and cheese to brown it. Make a hole in the salmon with the cookie cutter. Remove and reserve, cut a portion of the pasta bake and place it in the cavity. Squeeze the lemon and mix with the mustard, olive oil and herbs.
Step 2/3
Spread the marinade over the salmon circle and over the pasta-stuffed salmon. Place the salmon with pasta on a sheet of aluminum foil and place on the barbecue grill. Place the thyme and bay leaves in a bowl, burn carefully with a blowtorch and place the salmon circle on top to smoke. Put everything on the grill and allow it cook.
Step 3/3
Cut 4 mozzarella balls into slices. Place 3 in a pan and sprinkle each with a little parmesan. Cut the zucchini into thin strips, place over the cheese portions and fry. Repeat the process until you have used all the zucchini. Place the zucchini disks lightly on top of each other, making a row, and roll them up. Place the roll upright on a plate, serve with the salmon and enjoy!