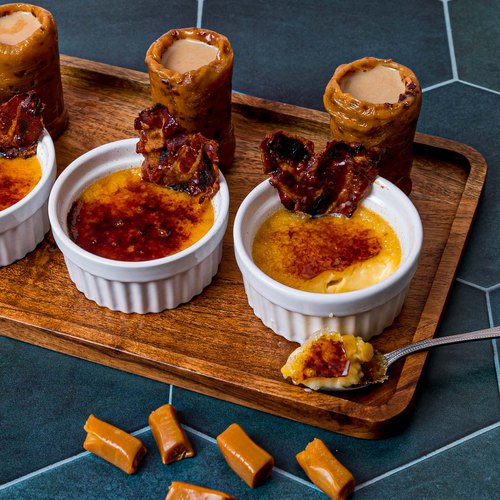 Candied Bacon Crème Brûlée
Candied Bacon Crème Brûlée! With shots of vodka & Baileys 😎🥓🍸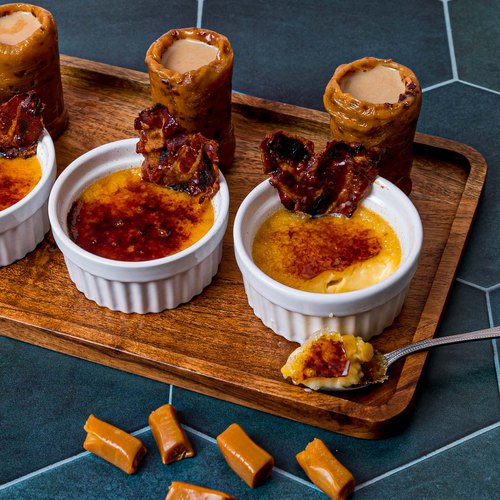 ---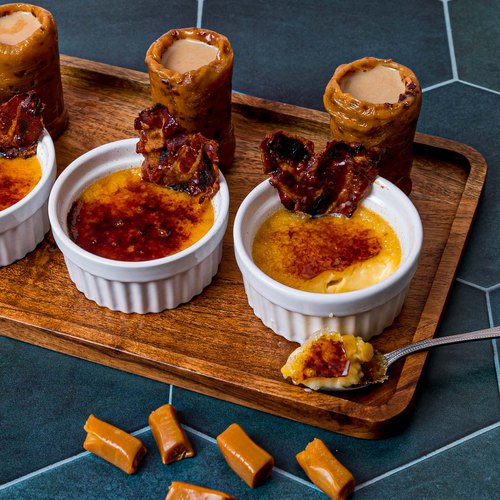 ---
Total time: 1 hour 30 minutes
Prep time: 15 minutes, Cook time: 1 hour 15 minutes
Ingredients for 3 people
1 bag of werther's original hard caramels
8 soft caramels
1 tbsp of water
1 tbsp of butter
10 slices of bacon
1 cup of sugar
2 cups of heavy cream
4 egg yolks
Vanilla extract
Sriracha hot sauce
Maple syrup
Vodka
Baileys
---
Tools
parchment paper
Rolling pin or metal rod
Ramekins
Skillet
Blowtorch
Shot glass
---
Step 1/5
Add egg yolks and sugar to a bowl. Whisk together until yolks become creamy and add the vanilla. Add heavy cream to a pot on medium low heat. Once simmering remove from heat and slowly stream into egg yolk mixture. Pour into ramekins and add ramekins to a glass dish. Add hot water to the glass dish (about half way). Bake at 325°F until firm but a bit of a jiggle in the center.
Step 2/5
Brush bacon with maple syrup and sriracha, then sprinkle with brown sugar and bake for 10-15 minutes.
Step 3/5
Put the caramel candies in a skillet with water and butter. Add chopped bacon to caramel. Pour onto parchment paper. Cover with another sheet of parchment paper and roll until thin. Shape caramel around a shot glass to form a cup. Cut excess caramel.
Step 4/5
In a shaker pour 1 1/2 shots of vodka, 2 shots of Baileys. Shake well and serve in caramel shooters.
Step 5/5
Pour sugar on top of cooled crème brûlée and torch until brown. Add bacon pieces on top and enjoy!