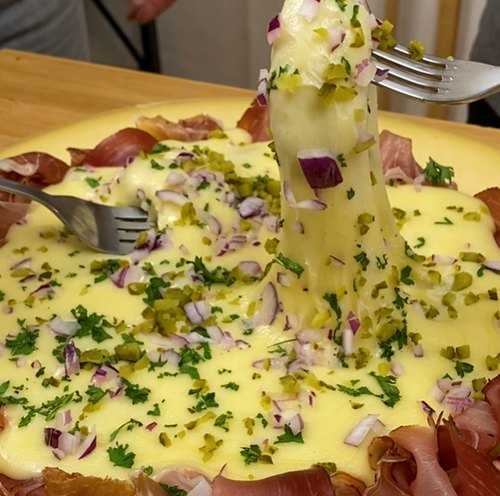 Cheesy Potato Soirée
Cheesy Potato Soirée! A dream come true for cheese lovers 🤤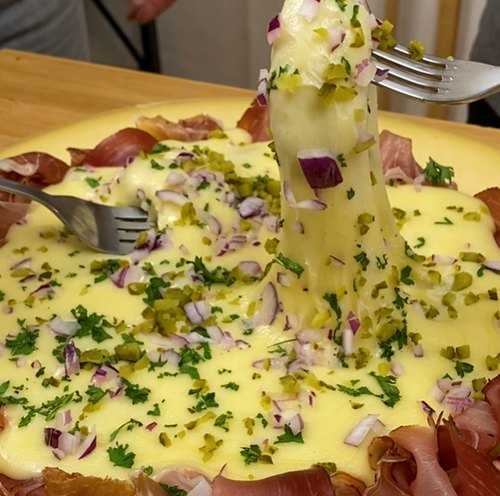 ---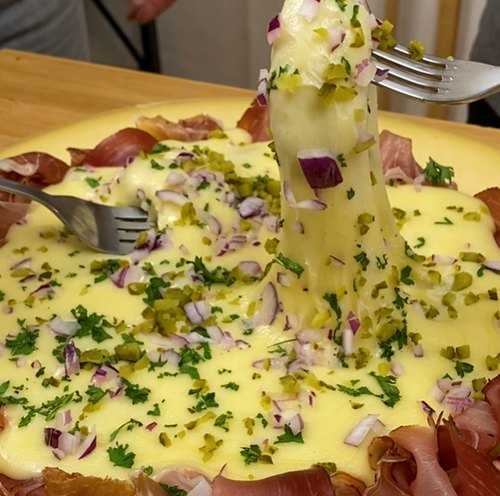 ---
Total time: 25 minutes
Prep time: 25 minutes
Ingredients for 6 people
1/2 raclette wheel
5 potatoes
8 tbsp of cornflour
2 egg
2 tbsp of butter
25 slices of prosciutto
3/5 cup of white wine
Parsley
1/2 cup of red onion
Olive oil
---
Step 1/3
Cut the half-wheel of raclette in 2 lengthwise and arrange the 2 pieces so as to form a circle. Put a large bowl in the center and cut with a knife to make an imprint. Dig with a tablespoon. Use a little cheese to bind the 2 parts of the wheel in the center. Reserve scraps.
Step 2/3
In a salad bowl, finely grate the potatoes, add the cornflour, the eggs and mix. With 2 tablespoons form small dumplings, then plunge them for a few moments in boiling water. Set aside on a clean tea towel. In a skillet, fry the gnocchi in a drizzle of olive oil and butter.
Step 3/3
Arrange the prosciutto in a circle in the Raclette wheel, add the gnocchi to the centre. Melt the leftover raclette in a saucepan with the white wine, then pour over the gnocchi. Sprinkle with chopped parsley and red onion. Serve and enjoy!