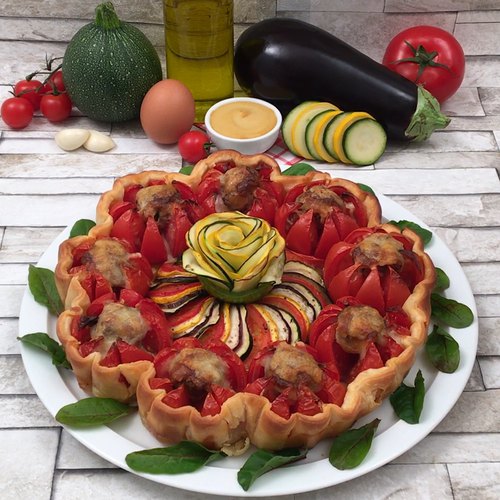 Meatball Ratatouille
Made for the summer! ☀️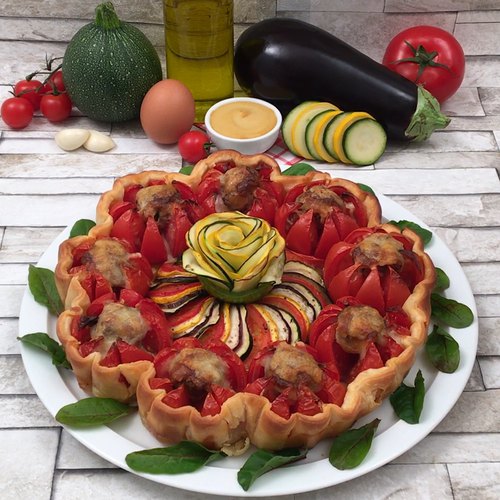 ---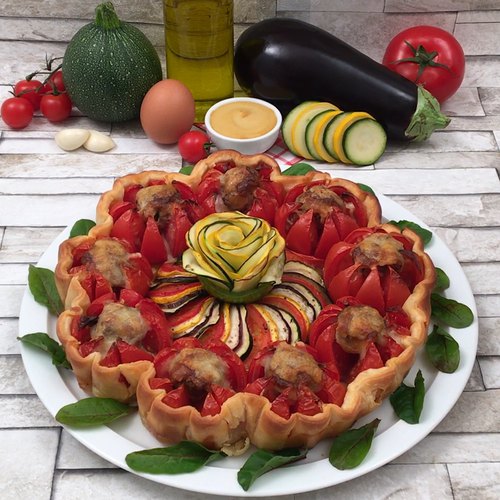 ---
Ingredients for 6 people
10 tomatoes, 9 red and 1 green
3/4 lb of ground lamb
2 cloves of garlic, minced
1 tbsp of mustard
1 egg yolk
1 puff pastry
2 tbsp of breadcrumbs
1/2 an eggplant
1/2 a summer squash
1/2 a zucchini
1 cup of shredded mozzarella
parsley, to taste
paprika, to taste
cumin, to taste
salt & pepper, to taste
olive oil
---
Tools
Round pie plate
Skewer
---
Step 1/4
Turn over 9 tomatoes and cut each one into 8 quarters, leaving them connected at the base. Mix the ground lamb, chopped garlic cloves, cumin, paprika, chopped parsley, salt and pepper and a drizzle of olive oil. Stuff the tomato flowers with this stuffing (roll it into balls first to make stuffing the tomatoes easier!).
Step 2/4
Mix the mustard with the egg yolk then brush it over the bottom of the pie dough placed in the dish. Sprinkle with breadcrumbs then place the tomatoes on top, in a circle against the edge. Stick the edge of the tart dough tightly against the tomatoes.
Step 3/4
Cut the remaining vegetables except the green tomato into thin slices. Form a circle with these slices alternating in the dough in the middle of the tomatoes. Cut the green tomato in half lengthwise and hollow out the bottom part. Arrange alternating slices of yellow and green zucchini in a line, overlapping them. Roll the line on itself to form 1 flower and place it in the hollowed out green tomato half. Place in the center of the pie.
Step 4/4
Spread the shredded mozzarella cheese over the stuffed tomatoes, drizzle olive oil over the vegetables, season with salt and pepper and place in the oven for 35 minutes at 350 °F. Remove from the oven, cut into pieces and eat.