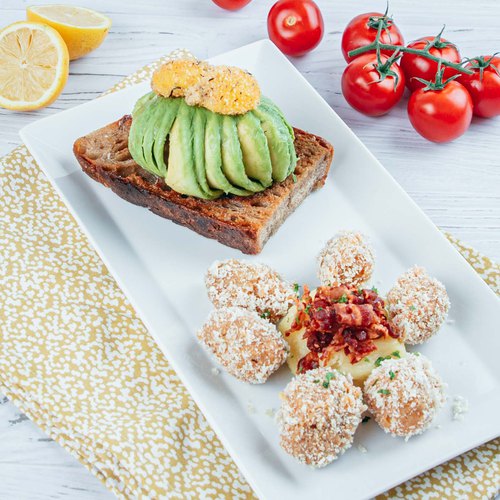 Avocado Breakfast Toast
Avocado Breakfast Toast! With fried eggs & potatoes 😋🥑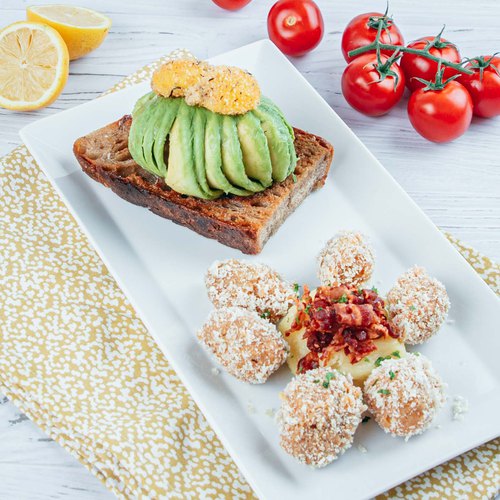 ---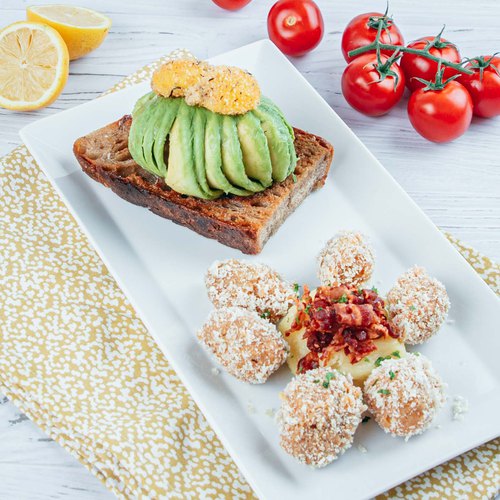 ---
Total time: 30 minutes
Cook time: 30 minutes
Ingredients for 4 people
2 avocados
5 egg
1/2 cup of breadcrumbs
3 tbsp of everything bagel seasoning
1 lemon
1 tomato
1 onion
Arugula
3 cups of fingerling potatoes
1 cup of swiss cheese
1/2 cup of flour
3 slices of bacon
2 sandwich bread
---
Tools
Toothpicks
Small round cookie cutter
Whisk
Cling wrap
---
Step 1/5
Separate the white and yolks for 4 eggs. Place the yolks in your breadcrumbs and then fry them in hot oil for 20 seconds. Set aside.
Step 2/5
For the egg whites, whisk in a bowl with a whisk until slightly frothy. Add the diced tomatoes and onions along with the arugula to a pan with some olive oil over medium heat. Stir and add the whisked egg whites. Cover, reduce the heat to medium low and cook for 4 minutes.
Step 3/5
Cut the avocados in half and remove the skin and seed. Place in some lemon water for 10 seconds. Cut into thin slices and place on plastic wrap opposite of each other. Press down to form a fan. Using the cookie cutter, cut out a piece of cloudy omelet and place in the center. Form a ball using the plastic wrap and twist at the top. Place in the fridge for 5 minutes.
Step 4/5
Cut the potatoes in half and take out a portion of the center. Add the cheese and then close with two toothpicks on either side. Fry for 4 minutes. Take out and allow to cool. Remove the toothpicks. Use the last egg as an egg wash and place each in flour, then egg wash, and finally the rest of the breadcrumbs. Fry until golden brown.
Step 5/5
Toast some bread, place the avocado ball on top followed by two fried egg yolks. Add the fried potatoes and diced bacon. Serve and enjoy!