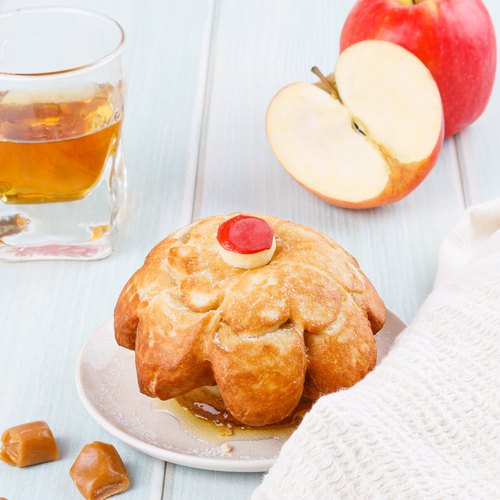 Flambéed Apple Beignets
It's a date with deliciousness 😍💖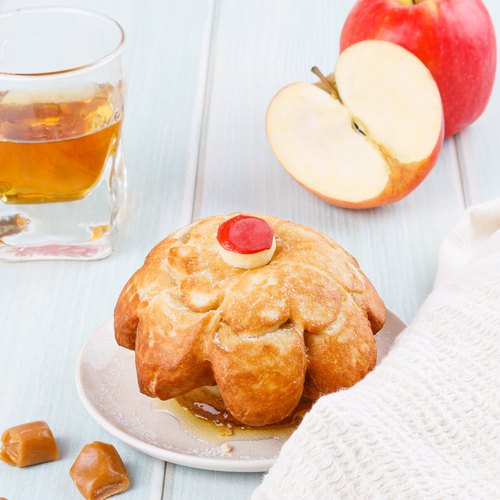 ---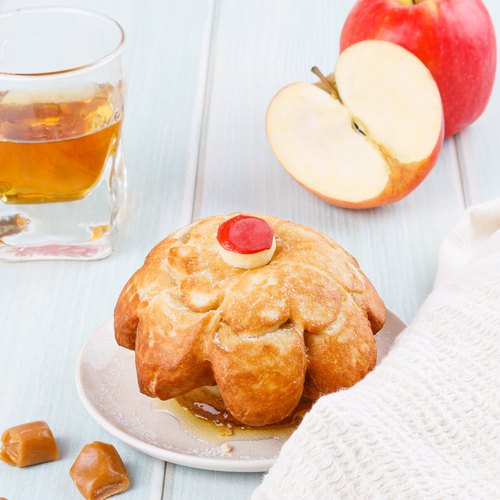 ---
Total time: 3 hours 15 minutes
Prep time: 45 minutes, Cook time: 30 minutes, Rest time: 2 hours
Ingredients for 3 people
1 3/4 cups of flour
1/2 cup of milk
2 tsp of yeast
1 pinch of salt
3 tbsp of butter
1 egg
3 apples
3 tbsp of sugar
Cognac
7 tbsp of powdered sugar
Frying oil
---
Tools
Toothpicks
Melon baller
---
Step 1/3
Mix the flour, lukewarm milk, yeast, salt, soft butter and egg in a mixer to obtain a smooth dough. Let the dough rise for 2 hours at room temperature. Carve apple balls with the melon baller, stick the toothpicks in the center of the balls and set them aside. Melt the sugar in a saucepan, stirring gently to obtain caramel, pour the cognac into the caramel and flambé it. Pour the caramel into 3 molds of the muffin tin. Place the apple pieces in each mold lined with caramel. Bake for 30 minutes at 350°F.
Step 2/3
Cut the brioche dough in 2 lengthwise, cut the 2 parts in 3 to obtain 6 pieces of dough. Form a ball with each piece of dough, flatten them and form a star-shaped pattern on top. Cut notches in the center of the dough and at the ends without going all the way to form a flower. Fry the dough flowers in hot oil.
Step 3/3
Unmold the apple and caramel tartlets from the molds onto a plate. Place the puff pastry shells upside down on the apple tartlets, sprinkle with powdered sugar and place a piece of apple in the center. Serve and enjoy!