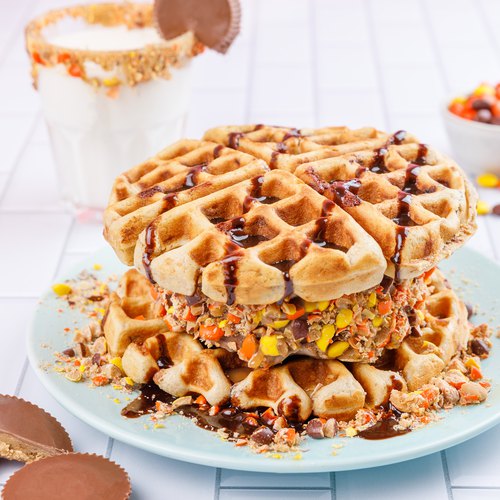 Reese's Waffle Sandwich
Reese's Waffle Sandwich! Get nutty in the kitchen with this treat 😆🧇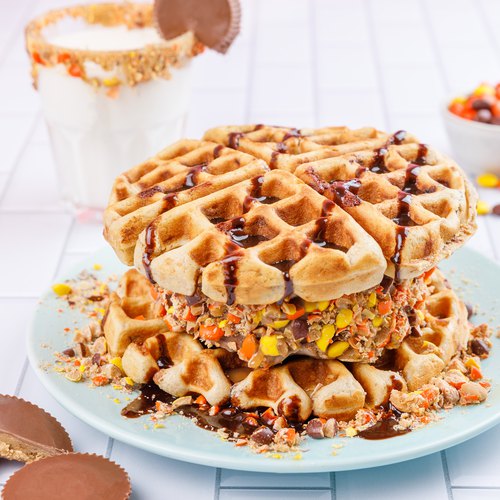 ---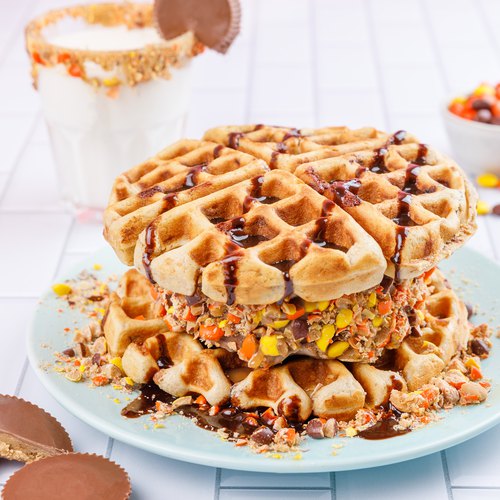 ---
Total time: 1 hour 30 minutes
Cook time: 1 hour 20 minutes, Rest time: 10 minutes
Ingredients for 6 people
1 3/5 cups of milk
4 tbsp of reese's puffs
2 cups of flour
1 1/2 tbsp of baking powder
1 tbsp of sugar
2 egg
0.3 cup of butter
4 reese's peanut butter cups
Cooking spray
8 hershey's milk chocolate bars
1/4 cup of peanut butter
1.3 tbsp of softened butter
0.3 cup of powdered sugar
6 reese's white chocolate peanut butter cups
1 cup of reese's pieces
Caramel sauce
Chocolate syrup
---
Tools
Mortar
Tea steeper
Glass
Whisk
Electric hand mixer
Tart pan
---
Step 1/6
Heat the milk in a small saucepan until it just begins to simmer. Crush the Reese's cereal puffs to a fine powder with a mortar and pestle. Add 2 tablespoons of the crushed cereal to the tea steeper and place it in a glass. Pour the warm milk into the and let it steep until the milk cools (about 5-7 minutes).
Step 2/6
Heat the waffle iron. In a mixing bowl, combine the flour, salt, baking powder, and sugar. Finely chop 4 milk chocolate Reese's cups. Once the milk has cooled add it to the bowl along with 1/3 cup of melted butter and whisk to combine until the batter is smooth. Add the chopped Reese's cups and fold them in with a rubber spatula. Once the waffle iron is ready, lightly coat the inside with cooking spray, then add enough batter to form a full, round waffle. Cook until nicely golden. Repeat with the remaining batter, adding more cooking spray as needed.
Step 3/6
Heat a small amount of water in a small saucepan, just enough that when a small mixing bowl is placed on top the water does not touch the bottom of the bowl. Heat the water, then add the chopped Hershey's bars to the bowl and place it on top of the saucepan. Melt until smooth.
Step 4/6
In another small mixing bowl, combine the peanut butter and remaining softened butter. Beat with a hand mixer until smooth. Slowly add the powdered sugar to the mixture and mix until well combined. Lightly coat the tart pans with cooking spray. Pour the melted chocolate into each pan, then add the peanut butter mixture to the top of the melted chocolate in one pan. Allow the chocolate to cool slightly, then place them in the freezer until the chocolate has set.
Step 5/6
Preheat the oven to 250°F. Add the waffles to a baking sheet then place them in the oven to warm and crisp. When the chocolate has set in the tart pans, remove them from the freezer. Place one on top of the other to form a giant peanut butter cup. Add the white Reese's Cups to a small mixing bowl and melt them as you did before over a saucepan of simmering water. Pour the chocolate onto a plate. Roll the outside edge of the giant peanut butter cup in the melted white chocolate, then roll it in crushed Reese's Pieces.
Step 6/6
Place the giant peanut butter cup on top of one waffle, then drizzle caramel sauce over the cup. Place another waffle on top, then drizzle chocolate syrup over the top. Serve with the additional waffles and more cereal-steeped milk if desired. Enjoy!