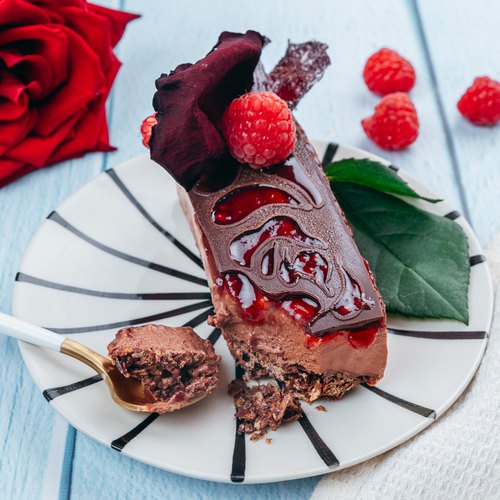 Chocolate & Rose Cake
Chocolate & Rose Cake! Time to stop & eat the roses 🥰🌹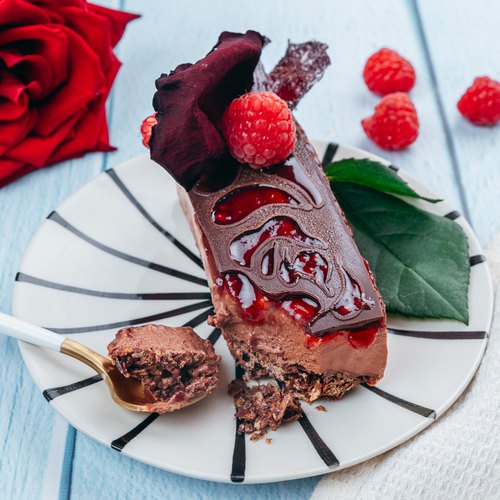 ---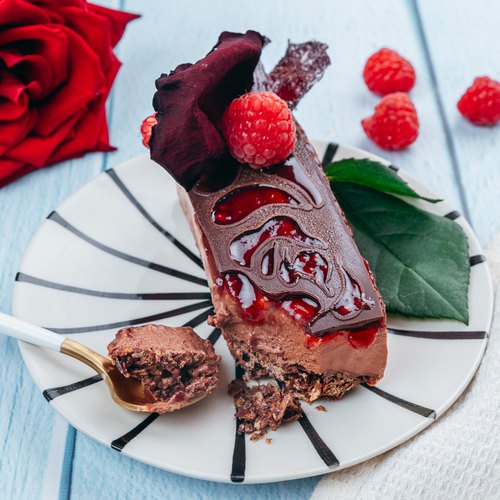 ---
Total time: 3 hours
Prep time: 40 minutes, Cook time: 2 hours , Rest time: 20 minutes
Ingredients for 3 people
3 1/2 oz of corn flakes
8 oz of dark chocolate
3/5 cup of heavy cream
2 tbsp of rasberry jelly
2 tbsp of powdered sugar
1 egg white
6 rasberries
1 rose
White vinegar
---
Tools
Piping bag
Skewers
Plastic sheet protector
Pastry brush
Whisk
Empty cereal box
parchment paper
---
Step 1/4
Cut cereal boxes lengthwise. Pour the cornflake cereals into a bowl. Melt 3½ oz of dark chocolate and add it to the bowl before mixing everything together. Cut 3 rectangles in the parchment paper the size of half-boxes of cereal, place them inside, then fill them with chocolate petals covered with melted dark chocolate. Melt 3½ oz of chocolate and allow to cool. Beat the heavy cream to obtain a whipped cream, then incorporate the melted dark chocolate. Put the whipped chocolate cream in a piping bag, cut off the end and pour the cream onto the chocolate petals, forming waves.
Step 2/4
Place the plastic sheet protector on a baking sheet, melt 1 oz of dark chocolate and pour 3 lines of melted dark chocolate before spreading them with a spatula to obtain 3 rectangles. Press the remaining half-box of cereal on the rectangles of melted chocolate to form rectangles and draw petals inside using a skewer. Place the boxes of mousse and refrigerate for 20 minutes.
Step 3/4
Detach and clean the rose petals with white vinegar. Place the rose petals on a baking sheet lined with parchment paper. Break an egg, separate the white from the yolk and mix the egg white. Cover the top of the rose petals with egg white with a brush before baking for 2 hours at 120°F.
Step 4/4
Arrange the chocolate mousses on a plate. Add the raspberry jelly, then unmold the chocolate decorations and place them on top. Add rose petals and raspberries. Enjoy!