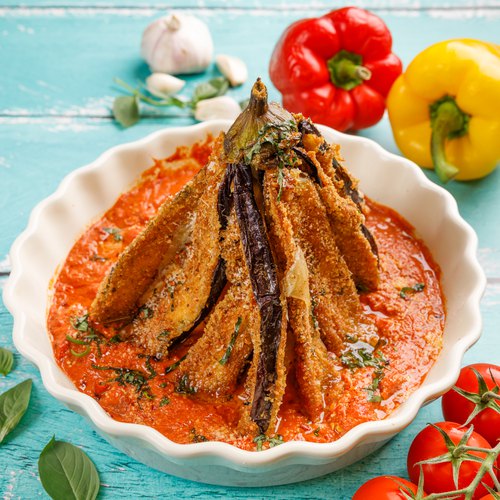 Standing Eggplant Parmesan
This dish deserves a standing ovation👏🍆🍅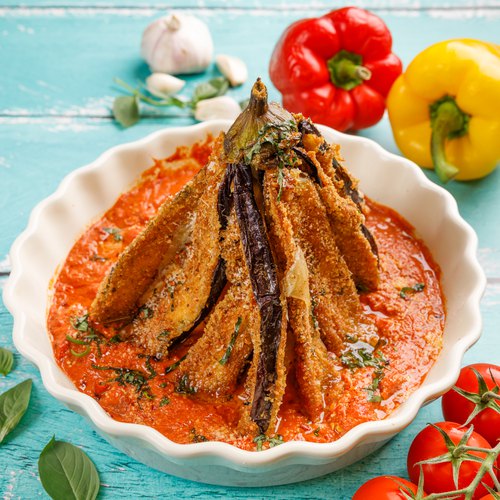 ---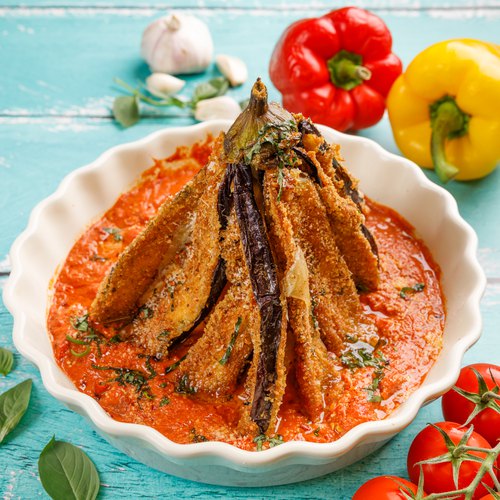 ---
Total time: 1 hour 30 minutes
Prep time: 1 hour 30 minutes
Ingredients for 2 people
2 garlic cloves
cup 1/2 olive oil
1 eggplant
14 oz of canned tomatoes
1 onion
1 cup of cherry tomatoes
2 oz of vodka
oz 2 ¼ tomato paste
1 cup of flour
2 eggs
1 cup of breadcrumbs
cup 1 ½ oil
tsp 1/2 crushed chilli flakes
cup 1/3 heavy cream
1/4 grated parmesan
5 oz of shredded mozzarella
1 chopped basil
---
Tools
Aluminum foil
Parchment paper
Baking sheet
---
Step 1/4
Preheat oven 350 degrees. Cut the tops off of the garlic, then place the garlic heads on a sheet of aluminum foil. Drizzle the garlic with 1/4 cup of olive oil and sprinkle lightly with salt. Close the foil around the garlic and bake for 1 hour.
Step 2/4
Place eggplant in a tall glass, stem side down. Using an apple corer or a knife, cut eggplant equaly in star-shape. Remove eggplant to continue slicing, stopping before reaching the stem. Place eggplant on baking sheet and sprinkle with salt. Allow to rest 30 minutes. During this time prepare tomato sauce. Add canned tomatoes to colander and with the help of a bowl, crush the tomatoes. Set aside. Heat remaining olive oil in saute pan over medium heat. Add the diced onions and saute for about 2-3 minutes, stirring often, then add the cherry tomatoes and let them sear slightly. Once the tomatoes begin to simmer, carefully pour the vodka into a ladle and set on fire with a lighter. Pour vodka over the cherry tomatoes. When flame is extinguished, turn heat down to low. Add crushed tomatoes to pan along with the heavy cream, roasted garlic, salt and optional crushed red chili flakes to taste. Stir well to combine.
Step 3/4
Once the eggplant has rested, preheat oil to 350 degrees. Dry eggplant with paper towels. In a 3 separate shallow bowls add the flour, beaten eggs and breadcrumbs accordingly. Dip the eggplant into the flour until well covered. Shake off the excess flour. Next, dip the eggplant in the beaten eggs, coating evenly. Allow excess egg to drip off. Cover the eggplant with the breadcrumbs. Set aside. When oil is hot, slowly lower the breaded eggplant into the oil and fry for about 6-9 minutes or until golden brown. Remove the eggplant and allow excess oil to drain on a paper towel.
Step 4/4
On a rimmed plate add 2-3 ladles of the tomato sauce. Top with the parmesan and shredded mozzarella. Place the eggplant on top of the sauce and sprinkle with basil. Dig in and enjoy!