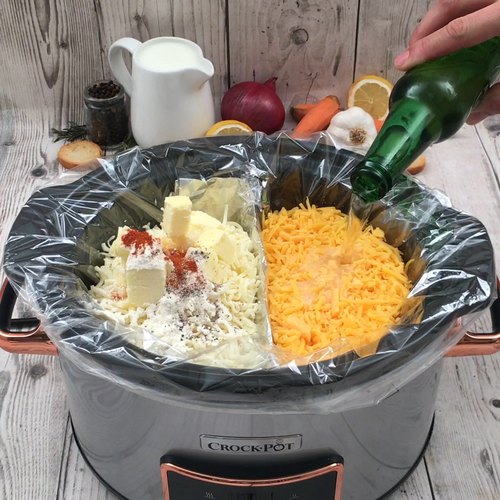 Recipe
Slow Cooker Hacks
It's time to give your slow cooker recipes an update!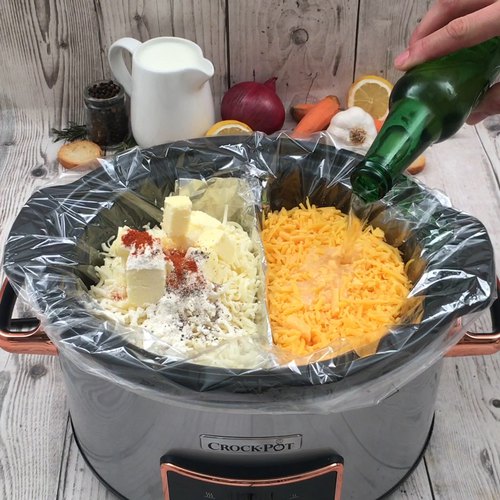 MOSAIC LASAGNA: In a slow cooker add in the following order; bolognese sauce, no-boil lasagna noodles and ricotta cheese. Repeat until your slow cooker is almost full. Cook on high for 1 hour, then just before serving add slices of mozzarella, sharp cheddar, and cheddar to create a mosaic, close lid and cook until cheese is just melted.

BEST EVER RIBS: Place pork ribs into your slow cooker, cover with Coca-Cola. Add a chopped head of garlic, some chilli peppers, salt and pepper. Cook on low for 6 hours or until meat is cooked through. Remove from slow cooker and serve.

2-IN-1 CHEESE DIPS: Fold foil into a divider the height of your slow cooker, place it in the center of the crock. Add a slow cooker liner. Fill one side with 2 cups of grated mozzarella, 1 cup of milk, 1/2 stick of butter, 1 TBSP flour, salt, pepper, and cayenne pepper. In the other half add 2 cups cheddar cheese and one beer. Cook on high for 1 hour. Serve the cheese dips in the slow cooker with your choice of veggies and crackers.

SLOW COOKER SMASH BURGER: Make your favorite burger patty, place it in a pan then remove the crock from your slow cooker and use the base to press the burger patty while it cooks - it will create craggy edges and a crisp surface. Remove the crock then add your choice of cheese. Place on a burger bun with the fixings!

INSTANT HUMIDIFIER: Add essential oils to a slow cooker filled with water. Turn on high until steam starts to emit from the slow cooker, use it as an easy humidifier!

ZERO EFFORT VEGGIE STOCK: Next time you're chopping vegetables, save the trimmings. Freeze the trimmings you are ready to make stock, or until you have enough trimmings to make stock! Fill your slow cooker with the frozen vegetable trimmings and cover with water. Cook on low over night. Add salt to taste, then place in jars, add a bay leaf then store in fridge until ready to use. If you won't use within the week, freeze in ice cube trays and pull out whenever you need.

SLOW COOKER CHEESY BREAD: In your slow cooker crock, place 3 cups flour, 1/2 TBSP yeast, 1 tsp salt, and 1 1/3 cups water. Stir until just combined. Close the slow cooker lid and let sit overnight - do not turn on the slow cooker! In the morning, punch down the dough and turn out onto a floured surface. Flatten and cover with cheddar cheese and chives. Roll the bread dough lenghtwise. Grease your crock, then place the rolled bread dough back in in a spiral. Cover with foil and bake at 375 °F for 40 minutes.

Use your slow cooker to make your favorite slow-cooked pot pie filling, let the crock cool enough that you are able to touch it without burning yourself, then remove the crock from the slow cooker. Alternatively, place your favorite home-made or store-bought pot pie filling into your slow cooker's crock. Once your crock is full of pot pie filling, take puff pastry and cover the top of the crock. Rolling the overhanging edges inward to make a crust. Score the center of the puff pastry. Bake for 1 hour at 350 °F. If you're worried your filling isn't going to be warm (because you have a very large crock) cover the puff pastry with foil and bake a bit longer.
It's ready!
SIGN UP
FOR FREE
TO SEE THE RECIPE
Discover the Chefclub cookbooks
More Chefclub recipes
Find Chefclub's top recipes in our best-of collection boxed set. These books compile our most-liked recipes from the community with tons of photos, set-by-step instructions, and kitchen tips! With these books you'll be able to create easy and tasty original recipes for any moment.
DISCOVER THE BOOK