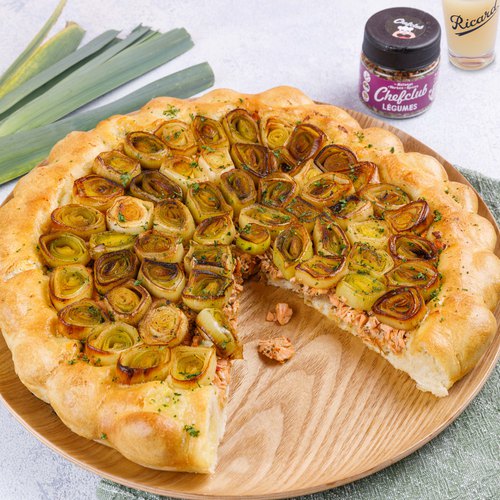 Salmon & Leek Flambé Quiche
Salmon & Leek Flambé Quiche! Get into the spirit with this delicious recipe 🐟🔥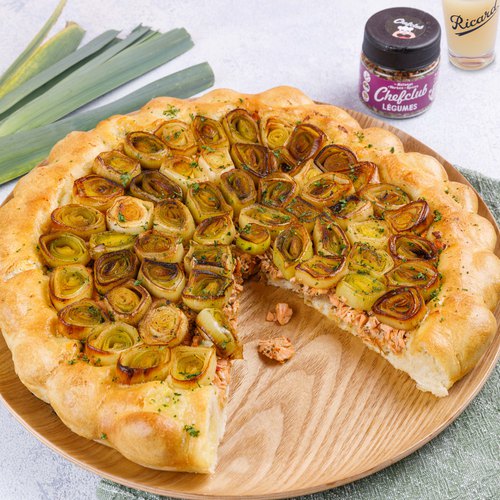 ---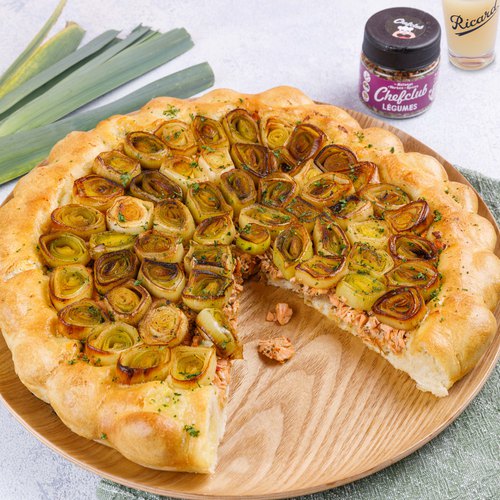 ---
Total time: 2 hours 20 minutes
Prep time: 35 minutes, Cook time: 45 minutes, Rest time: 1 hour
Ingredients for 6 people
2 3/4 cups of flour
Salt & pepper
0.4 tsp of yeast
2 tbsp of butter
1.1 lbs of salmon
Chefclub vegetable seasoning
1 lemon
5 leeks
Olive oil
3 tbsp of anise-flavoured spirit
Mini mozzarella balls
0.4 cup of heavy cream
1 onion
Parsley
Vegetable bouillon cubes
---
Step 1/4
Mix the flour, salt, yeast, 1 cup of warm water, butter until you obtain a smooth dough. Knead the dough and form a ball then refrigerate for 1 hour.
Step 2/4
Draw a grid on the salmon fillet, sprinkle with Chefclub vegetable spices. Place the salmon on a baking sheet. Heat 0.4 cup of water with the vegetable bouillon cube and pour over the salmon. Cut the red onion and the lemon into rings, place the red onion and lemon rings in the interstices of the salmon and bake for 15 minutes at 350°F.
Step 3/4
Remove the greens of the leeks and the roots. Cut the rest of the leeks into slices, cook them in an oiled frying pan, add the anise-flavored spirits to flambé the leeks. Cut the onion into pieces.
Step 4/4
Form a circle with the dough, place the mozzarella balls around the edge of the dough and fold the dough over to obtain a crust filled with mozzarella. Place the heavy cream in the center of the dough. Spread the cream, add the chopped onion and season with salt and pepper. Crumble the salmon and place it in the center of the dough, place the leek slices vertically on the salmon until completely covered and bake for 30 minutes at 350°F. Sprinkle with parsley and enjoy!