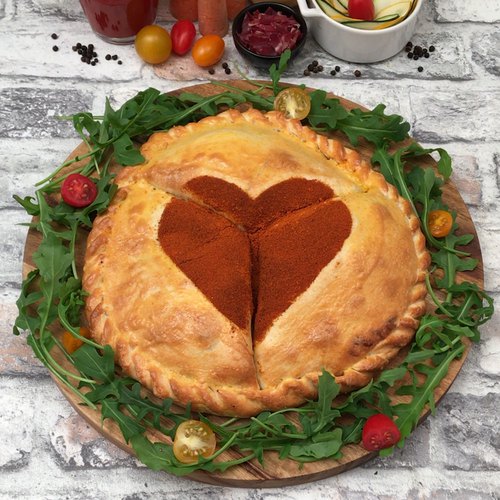 3-in-1 Calzone
A pie that's full of flavor and love! 🍕😍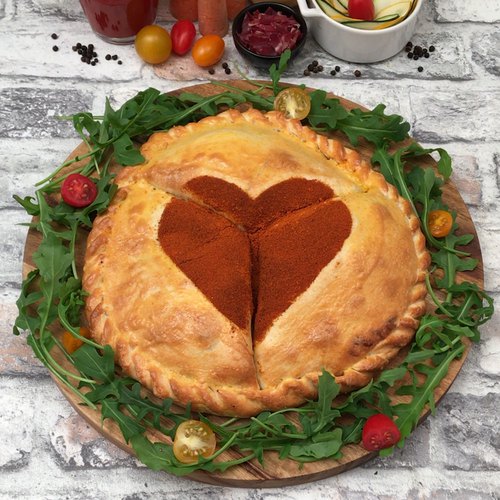 ---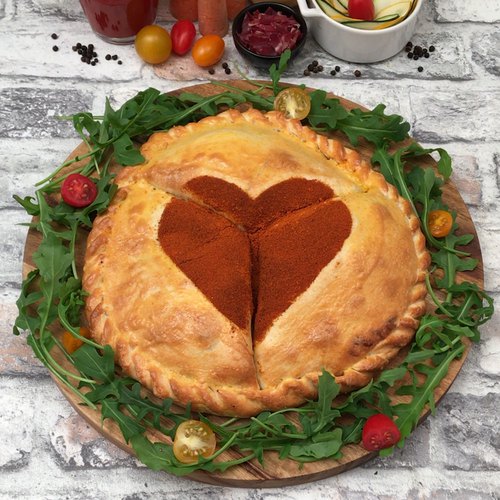 ---
Ingredients for 4 people
3 pizza doughs
4 tbsp of tomato sauce
1 yellow squash
1 zucchini
1 carrot
1 ball of mozzarella
3 black olives
1/4 cup of grated cheddar
1/4 cup of shredded mozzarella
1/4 cup of blue cheese crumbles
3 slices of ham
2 tbsp of cream cheese
1/4 cup of bacon, sliced
1/2 onion
herbs de provence
paprika
---
Tools
Parchment paper
---
Step 1/4
Cut the zucchini and carrot into thin strips lengthwise and grill them. Grill the bacon with the chopped onion.
Step 2/4
Cover 1 of the pizza doughs with 2 tbsp tomato sauce and then add slices of yellow and green zucchini and previously roasted carrots to half of the pizza. Add slices of mozzarella cheese and black olives cut in half to the vegetables. Fold the pizza in half to form a calzone.
Step 3/4
On a second pizza dough, place the remaining tomato sauce, grated cheddar and mozzarella cheese, diced blue cheese and ham slices and fold into a calzone. Spread the cream cheese on the last pastry, sprinkle with herbs de Provence then add the grilled bacon on one half. Fold into a calzone.
Step 4/4
Form a disc by nesting the 3 calzones on top of each other and turn the edges slightly to form a crust. Cut a heart out of baking paper to make a stencil and place it in the center of the pizza. Sprinkle paprika into the heart, remove the baking paper and place in the oven for 30 minutes at 375 °F. Remove from the oven, cut into slices and eat.