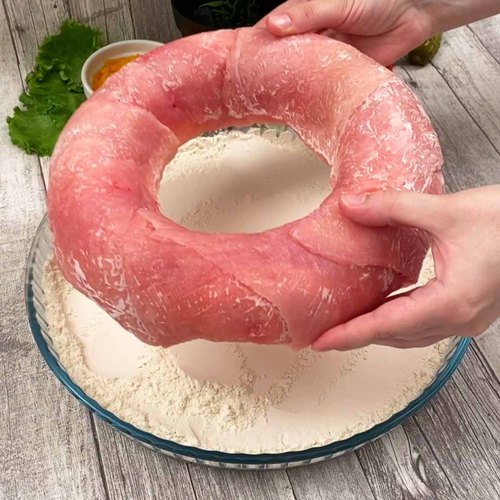 Epic Fried Chicken Sandwich
When you live by the phrase: Go big, or go home! 🍗😲👑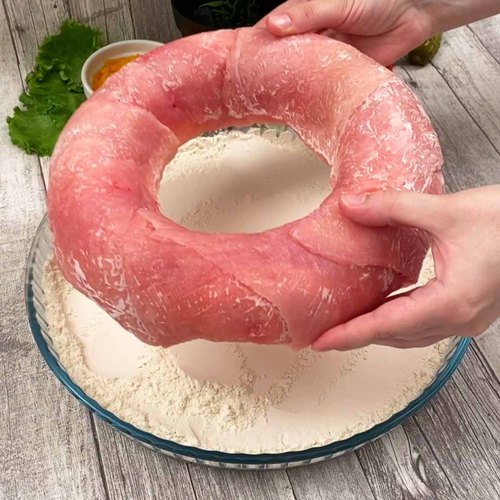 ---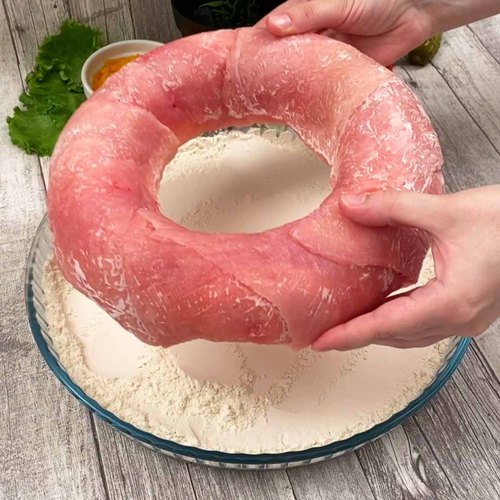 ---
Ingredients for 10 people
6 chicken breasts
2 cups of jack cheese
bread dough, risen
2 cups of cheddar cheese
flour, for breading
beaten eggs, for breading
seasoned panko, for breading
burger sauce
lettuce
pickles
french fries
---
Tools
Plastic wrap
Ring molds
Cooling rack
Cookie sheet
---
Step 1/4
Flatten each chicken breast, then line a ring mold with plastic wrap. Lay each chicken breast short ways in the ring mold then fill the center with cheese, with the over-hanging chicken cover the cheese then wrap the top in the over-hanging plastic wrap and freeze until solid.
Step 2/4
Meanwhile, punch dough your risen bread dough and add the 2 cups of cheddar cheese. Knead until combined and place in the second ring mold. Bake for 25 minutes at 350 °F. Remove from oven and let cool.
Step 3/4
While bread is cooling, remove chicken from freezer and remove plastic wrap. Dredge in flour, egg then panko. Place on top of a cooling sheet set inside of a cookie tray and bake for 45 minutes - the addition of the cooling sheet helps ensure that the breading is crispy all the way around, but it isn't necessary if you do not have.
Step 4/4
Once the chicken is cooked add burger sauce, lettuce and pickles to the bottom of the bread and set the oven-fried chicken ring on top. Add the top bun and fill the center with French fries. Serve slices with fries on the side!
Similar recipes from Chefclub
-
Our other recipes