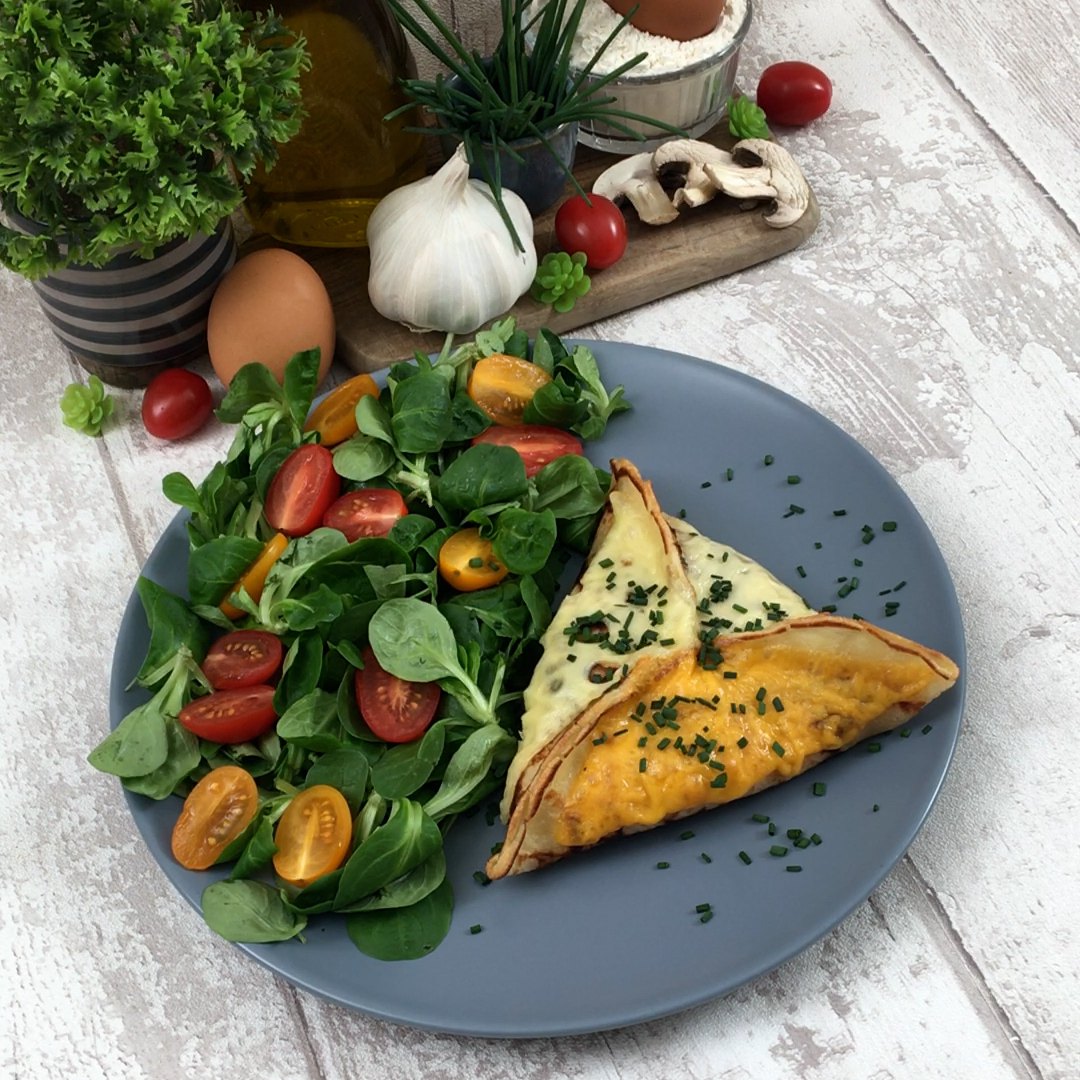 Samosas Crêpes
You'll fold for these
Made by you!
Ingredients
1 chicken breast
3 mushrooms
1 clove of garlic
250g flour
5 eggs
1 tsp sugar
1 tbsp neutral oil
1 tsp yeast
300ml milk
1 slice of cheddar cheese
1 slice of Swiss cheese
1 slice gouda
Parsley and chives
Kitchenware
Pan 24 cm Chefclub by Tefal®
Manual food processor Chefclub by Tefal®
Chefclub by Tefal® 4 pasta bowls
1. Heat the pan with a drizzle of oil and then grill the chicken breast on both sides in it once the hourglass in the centre of the pan has disappeared (1). Season with salt and pepper and dice the cooked chicken.
2. Mix together in the food processor the mushrooms, parsley and garlic clove (2).
3. Mix the flour, 1 egg, sugar, 1 pinch of salt, sunflower oil, 100 ml of water and the yeast then add the milk, mixing to obtain a pancake batter. Cook 4 thick pancakes in the pan when the hourglass in the centre of the pan has disappeared, cooking on one side only.
4. Place the pancakes in pasta bowls. Break 1 egg in each (3) and a quarter of the mixed mushrooms and beat them in the pancake. Add diced chicken breast to each pancake. Fold the pancakes into triangles, welding the edges together to form samosas (4-5).
5. Cut 4 triangles from each slice of cheese and place 1 on each part of the samosas (6). Grill in a pan, covered, to melt the cheeses. Serve, sprinkle with chopped chives and enjoy (7-8).