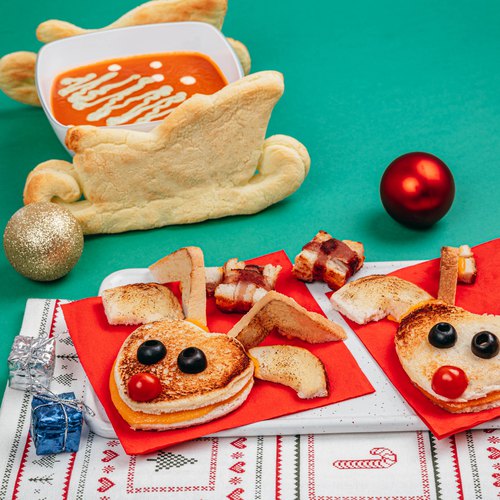 Reindeer Grilled Cheese & Tomato Soup
Reindeer Grilled Cheese & Tomato Soup! A fun recipe to make with kids 🦌🥪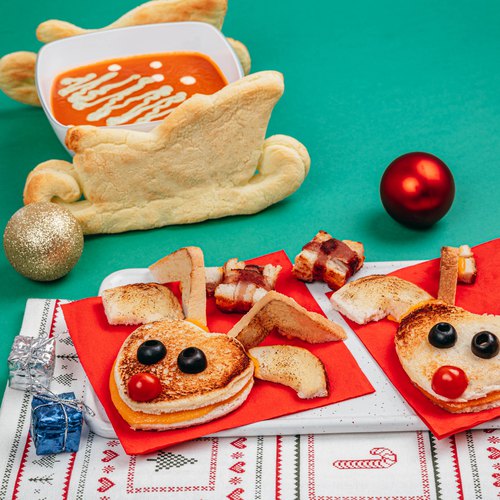 ---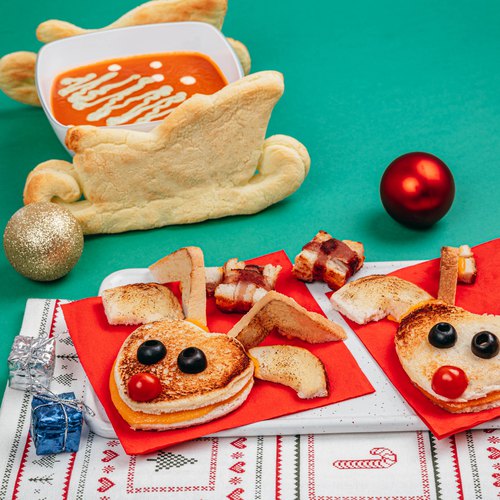 ---
Total time: 40 minutes
Prep time: 20 minutes, Cook time: 10 minutes, Rest time: 10 minutes
Ingredients for 2 people
4 slices of sandwich breads
1 slice of cheddar
3 cherry tomatoes
6 black olives
5 slices of bacon
1 oz of butter
16 oz of duchess potatoes
10 oz of tomato soup
5 oz of sour cream
2 oz of basil leaves
2 oz of milk
1 oz of parsley
---
Tools
Heart-shaped cookie cutter
parchment paper
---
Step 1/4
Take a heart cookie cutter and cut out two pieces of bread and a piece of cheddar cheese. Place those on a frying pan with butter. Brown both sides. Take the scrap bread that are left over from the heart and cut out antlers and ears. Melt cheddar cheese and dip ends into the cheese to stick to the heart to make a reindeer. Cut a cherry tomato in half for the nose. Cut off the ends of a black olive for the eyes.
Step 2/4
Cut two slices of bread into 9 squares. Take a piece of bacon and cut in half length-wise. Put two pieces of bread together and take a piece of bacon. Wrap bacon around the bread to create a ribbon. Fry in a pan with butter over medium heat. Set aside.
Step 3/4
Draw or print out the outline of a sleigh. Place on a sheet pan. Place a piece of parchment paper over. Pipe the outline with duchess potatoes. Fill the insides. Sprinkle spices on top if desired. Place in the oven at 375°F until golden brown.
Step 4/4
Pour tomato soup into a bowl. In a blender, add sour cream, milk, fresh basil leaves and fresh parsley leaves. Place into a squeeze bottle and pipe a tree on top of the tomato soup. Make the same mixture, but omit the basil and parsley leaves. Make the tree stump and add some dots around the tree to represent snow. Place cooled potato sleigh pieces leaning up against bowl. Serve with sandwich and enjoy!