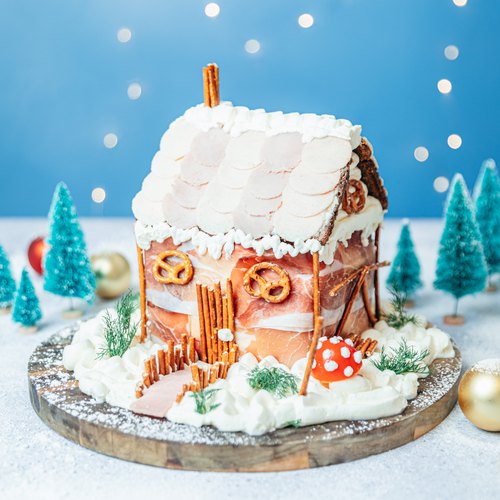 Hansel & Gretel House
Hansel & Gretel House! A fun recipe to make with the kids 🏠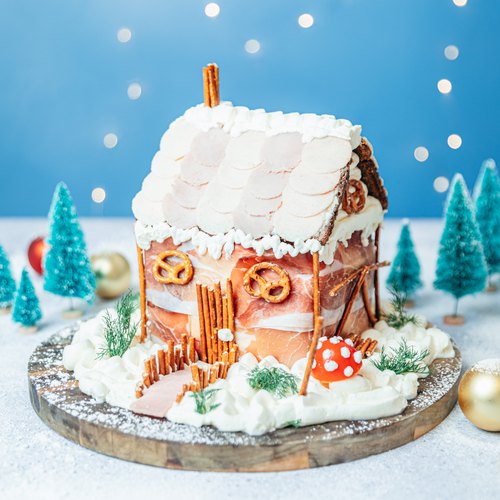 ---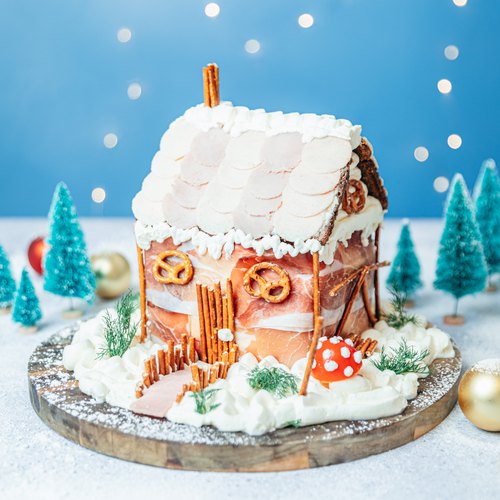 ---
Total time: 35 minutes
Prep time: 35 minutes
Ingredients for 4 people
9 slices of bread
2 oz of shredded cheddar
3 slices of ham
2 slices of turkey
2 tomatoes
3 slices of emmental cheese
2 slices of whole wheat bread
3 1/2 oz of cream cheese
5 slices of prosciutto
4.2 cups of heavy cream
3 1/2 oz of mascarpone
1 pinch of salt & pepper
2 oz of chives
3 1/2 oz of pretzels
Dill
2 cherry tomatoes
3 mini mozzarella balls
---
Tools
Piping bag
---
Step 1/3
Melt 1 pig of grated cheddar in a frying pan, arrange 5 slices of sandwich bread to form the base of the house and place it on a plate. Layer, 1 slice of bread, 1 slice of ham, 1 slice of bread, then repeat once more with the turkey and once with the ham. Place everything in the bread house.
Step 2/3
Fold the ham and the remaining turkey and cut into circles. Spread 1 pig of cream cheese on the slices of whole wheat bread, make rows of ham and turkey ham circles to cover the two slices of bread. Place them on the house to make the roof. Whip 4 chefs of heavy cream, 1 pig of mascarpone, salt, pepper and chives. Place in a piping bag. Form waves of the cream mixture on the roof and lines on the sides of the house to add the slices of prosciutto.
Step 3/3
Pipe the remaining cream mixture around the house, form a rectangle of ham to create the path, lay cut pretzel sticks to create the driveway and door. Add pretzels to make windows. Place the halved cherry tomatoes on the mozzarella balls and add dots of cream to create mushrooms. Place them on the cream. Serve and enjoy!