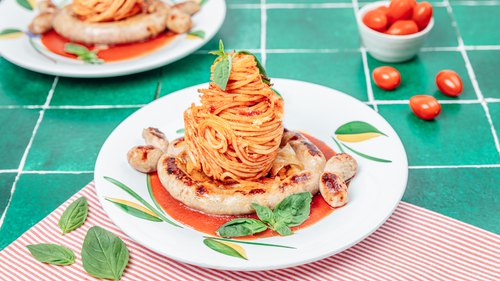 Italian Sausage Ragù
Italian Sausage Ragù! Time to take your pasta game to the next level 🍝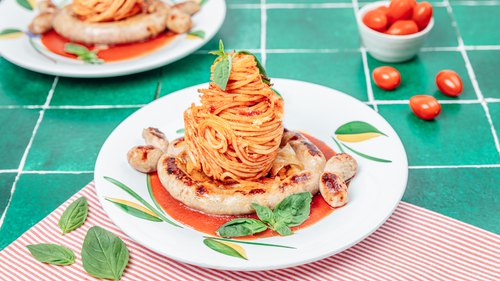 ---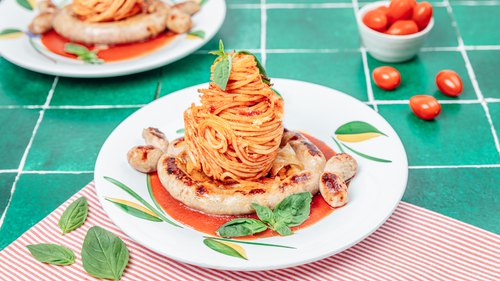 ---
Total time: 45 minutes
Cook time: 45 minutes
Ingredients for 6 people
18 oz of spaghetti
4/5 cup of tomato sauce
Chili powder
Parsley
4/5 cup of olive oil
Parmesan
6 mini mozzarella balls
12 sausages
7 oz of onion confit
30 cherry tomatoes
1 carrot
Basil
1 stalk celery
---
Tools
Ramekins
---
Step 1/3
Pour hot olive oil over chili powder, garlic and parsley. Add to hot tomato sauce. Add cooked spaghetti to tomato sauce and place in small ramekins. Add a mozzarella ball on top and sprinkle with parmesan. Bake 20 minutes at 350°F.
Step 2/3
Tie 2 sausages together to create a boat shape. Place on grill and fill the center with diced carrot, onion confit, tomatoes and chopped celery. Allow to cook fully.
Step 3/3
Pour some tomato sauce on a plate and add the sausage boat. Place the spaghetti on top and sprinkle with basil. Serve and enjoy!