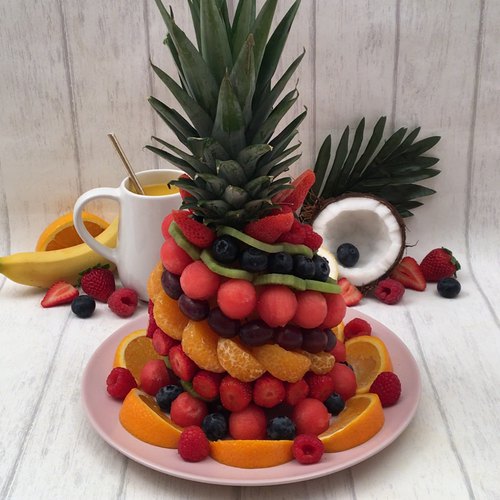 Crazy Fruit Salads
It's time to eat your vitamins!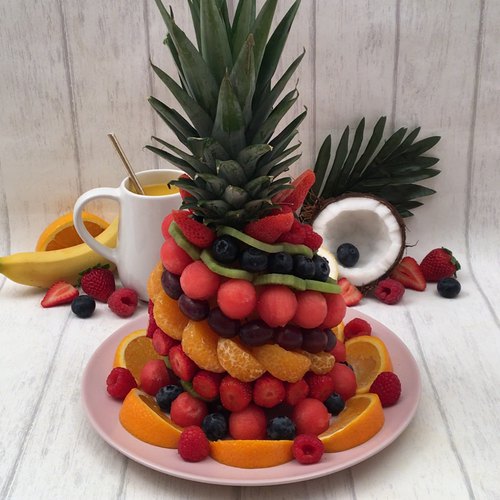 ---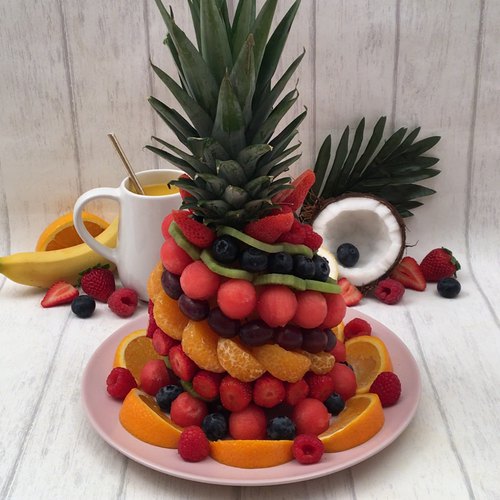 ---
Ingredients for 4 people
pineapples
grapes
clementines
watermelon
berries
mint
kiwis
crepes
bananas
candy
---
Tools
Toothpicks
---
Step 1/3
Remove the skin all around a pineapple without removing the leaves. Pick clementine wedges with toothpicks, then place around the pineapple. Prick above the grapes following the same pattern. Do the same with watermelon balls, blueberries and raspberries. Place half slices of kiwi between each row.
Step 2/3
Cut the top and bottom of a watermelon and then cut it in half across the width. Remove the skin from each half to make 2 round steaks. Place the smaller one on top of the larger one. Prick red fruits with toothpicks and decorate with candy and mint.
Step 3/3
Cut a crepe in half, place 2 slices of banana, 3 raspberries, 1 strawberry, and 1 blueberry in the middle, then roll the half pancake into a cone. Arrange the cones on a plate to cover it. Place 1 strawberry on a small disc of crepe, cut off 1 radius of the disc then surround the strawberry with the crepe starting from the open part. Place this last cone in the center of the plate and add red fruit and mint.
Similar recipes from Chefclub
-
Our other recipes