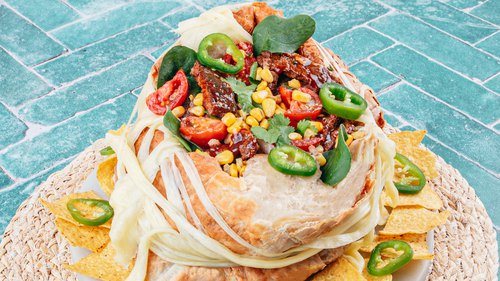 He creates the first ever Nachos Piñata
He creates the first ever Nachos Piñata! That is so cool!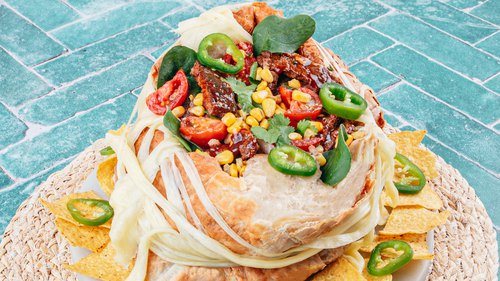 ---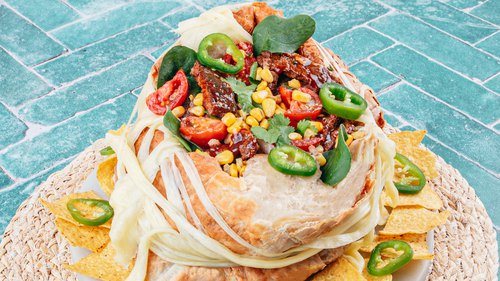 ---
Total time: 1 hour
Cook time: 1 hour
Ingredients for 6 people
8 tortillas
1 cup of flour
1 cup of water
4 ribeye steaks
2 cups of salsa marinade
2 cups of pico de gallo
1 cup of black beans
1 cup of corn
1 cup of spinach
2 tsp of coriander
---
Tools
Balloon
Aluminum foil
Kitchen twine
---
Step 1/4
Season the steaks with pepper on both sides and stack them. Use kitchen twine to tie together. Place in the marinade and allow to rest for 2 hours.
Step 2/4
Take the tortillas and cut into strips. Mix the flour and water in a bowl to then dip the tortilla strips into this mixture. Place on an inflated balloon. Place the balloon in the freezer standing upright for 30 minutes. Preheat the oven to 350°F. Pop the balloon and place aluminum foil on the inside with an upside-down glass on the baking sheet. Bake for 20 minutes or until golden brown.
Step 3/4
Sear your meat on all sides. Turn off the heat of the grill. Cover the meat with a bowl and let the air continue to cook the steak for 8 minutes. Remove from grill and allow to rest 5 minutes before slicing.
Step 4/4
Place the tortillas upside down with the hole side up. Remove the foil. Create layers interchanging the meat, spinach, black beans and Pico de gallo. Using a plate, turn the Piñata right side up to cover the hole. Coat everything with melted cheese and sprinkle with coriander. Enjoy!