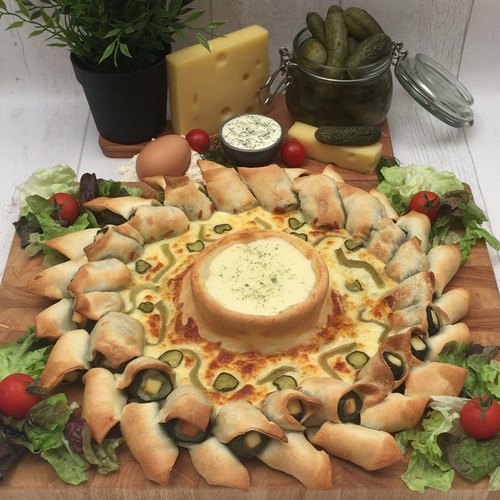 Double Decker Pickle Pizza
It's a big dill. ❤️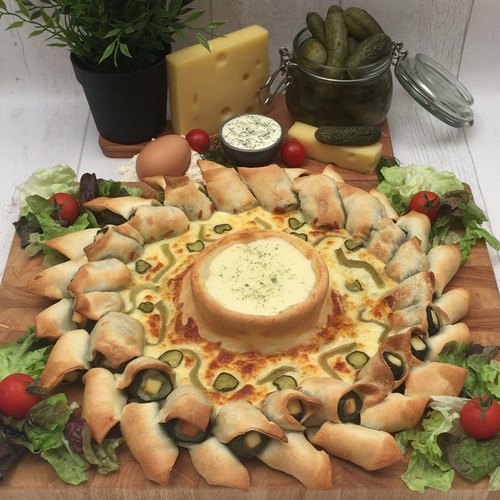 ---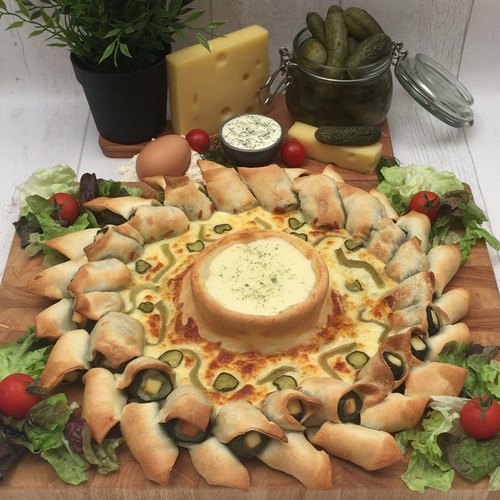 ---
Ingredients for 6 people
2 large jars dill pickles
1/2 lb of jack cheese, cut into battons
2 pizza doughs
1/4 cup of sour cream
3 tbsp of chefclub ranch seasoning
2 cups of shredded mozzarella
---
Tools
Smoothie straw
Ramekin
---
Step 1/3
Remove pickles from jar saving the pickle juice, cut the top and bottoms off the pickles set aside. Using a smoothie straw remove the center of the pickle, saving for later. Fill the whole with long pieces of jack cheese. Cut each cheese-stuffed pickle in half.
Step 2/3
On a parchment-lined baking sheet place one pizza dough, then fit a ramekin in the center. Cover with a second pizza dough and press the dough into the ramekin forming a bowl. Place half the pickles around the rim of the pizza dough at an angle. Slice in between each pickle, roll the top layer of pizza dough around the pickles then place the remaining pickle halves on the bottom dough. Roll the dough around the pickles and then tuck the pickles under the first row of pickles creating an elevated crust.
Step 3/3
Spread sour cream on the flat part of the pizza dough, then sprinkle with ranch seasoning and mozzarella cheese. Fill the ramekin with mozzarella and pickle juice. Bake for 30 minutes at 350 °F. Tear and dip the pickle crust then cut slices of the pizza and enjoy!