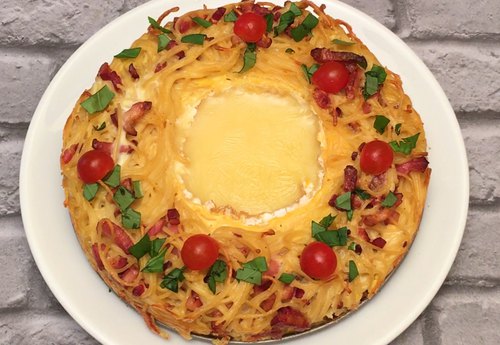 Carbonara Crown
The ultimate cheesy pasta fusion fondue!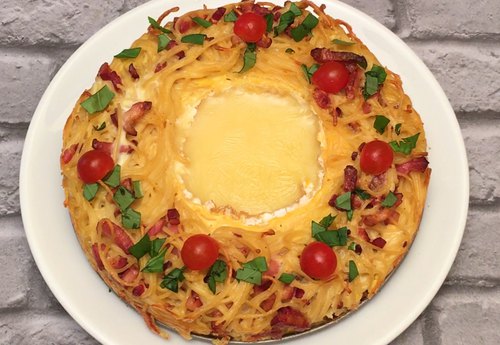 ---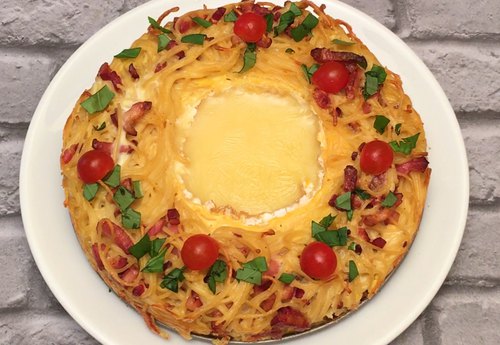 ---
Ingredients for 6 people
1 1/4 cups of spaghetti
1 brie cheese
1 cup of diced bacon
1 1/4 cups of grated parmesan
4 eggs
cherry tomatoes
basil
---
Tools
Cake pan
---
Step 1/4
Cook the spaghetti for 8 minutes in a large saucepan of salted boiling water, then drain.
Step 2/4
Fry the bacon in the saucepan and cooked spaghetti, eggs and parmesan cheese. Mix everything together well.
Step 3/4
Place the whole brie in the cake pan and surround it with spaghetti.
Step 4/4
Bake for 20 minutes at 350 °F. After cooking, remove the lid of the cheese and garnish the crown with basil leaves and cherry tomatoes. Eat by dipping parts of the pasta crown in the cheesy fondue.