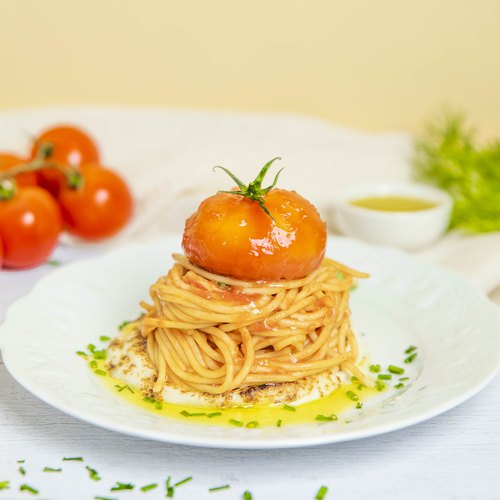 Mozzarella Lovers Pasta
Mozzarella Lovers Pasta! Tomato pasta with mozzarella to the max 🧀🍝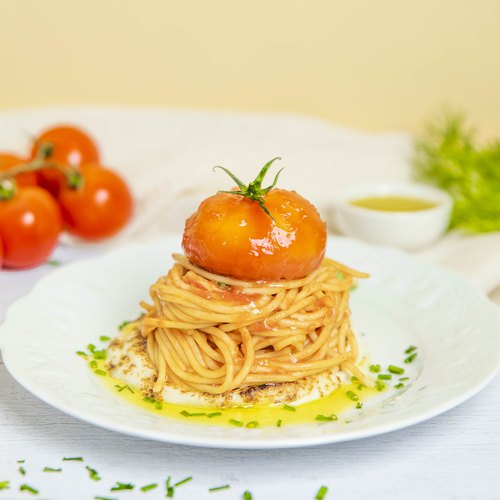 ---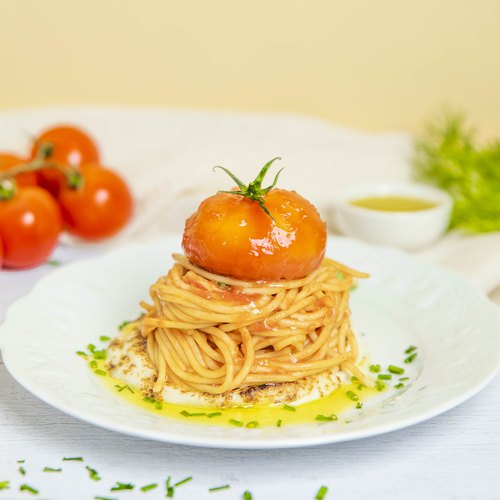 ---
Total time: 40 minutes
Prep time: 30 minutes, Cook time: 10 minutes
Ingredients for 3 people
18 cherry tomatoes
3 balls fresh mozzarella
1 tomato
1/2 onion
2 cloves garlic
Basil
Salt & pepper
1 1/2 cups of spaghetti
---
Tools
Cling wrap
Toothpicks
Cling wrap
---
Step 1/3
Heat the cherry tomatoes then remove the skins. Drain the mozzarella balls, cut ⅓ of each ball and enclose it in cling wrap, squeezing well to form balls.
Step 2/3
Heat remaining mozzarella balls until golden brown. Cut the tomato into small cubes, incise the underside of each ball of mozzarella, fill with the diced tomatoes, salt and pepper, and place the balls in the center of the plates.
Step 3/3
In a pan, brown the cherry tomatoes with the chopped onion, the garlic cloves, salt and pepper t. Add 4 tbsp of water. Add the spaghetti and mash the tomatoes and cloves. Place a lid over and allow to cook until done. Serve the spaghetti in a small bowl over the mozzarella balls. Cover the small balls of mozzarella with the remaining tomato sauce and place them on the spaghetti with a tomato vine. Sprinkle basil leaves over the dish, serve and enjoy!