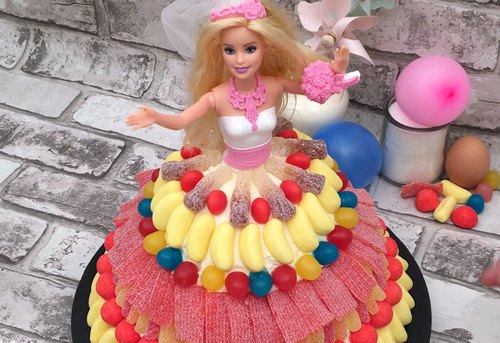 Bakery Barbie
Perfect for a kid's birthday party.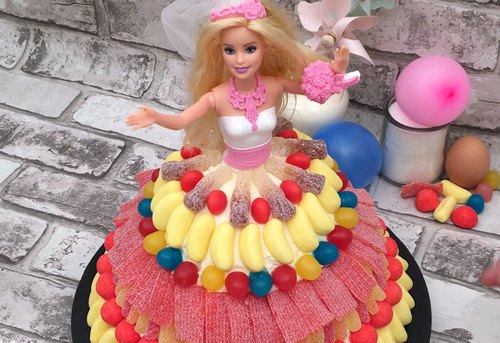 ---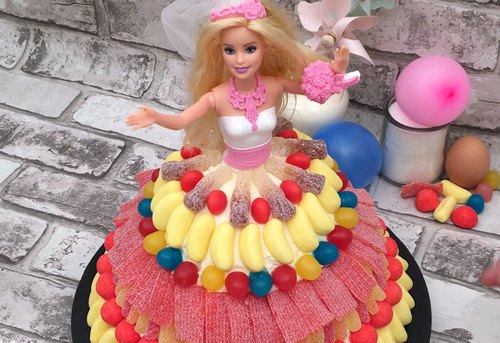 ---
Ingredients for 8 people
2 yogurt cups
3/4 cup of sugar
2 1/2 cups of flour
2 tsp of baking powder
1/2 cup of oil
6 eggs
2 cups of heavy whipping cream
1/3 cup of powdered sugar
1 tsp of vanilla
6 cups of your favorite candy
---
Step 1/3
Mix yogurt, sugar, flour, baking powder, oil, and eggs in a bowl until combined. Bake in an oven safe bowl for 25 minutes at 350 °F.
Step 2/3
Once cooled, flip the cake over and remove the cake mold. Using an electric mixer, beat the whipped cream, sugar, and vanilla together. Frost the cake with the whipped cream. Push your favorite Barbie® into the cake, so that only her torso shows. Decorate the dress with your favorite candies. We used a row of banana candies, followed by strawberry candies, followed by sour belts, and cocoa-cola candies. Repeat in rows until the whole dress is covered in candy.
Step 3/3
Admire Barbie's new dress and feel free to eat a few whip cream coated candies before slicing into the cake.