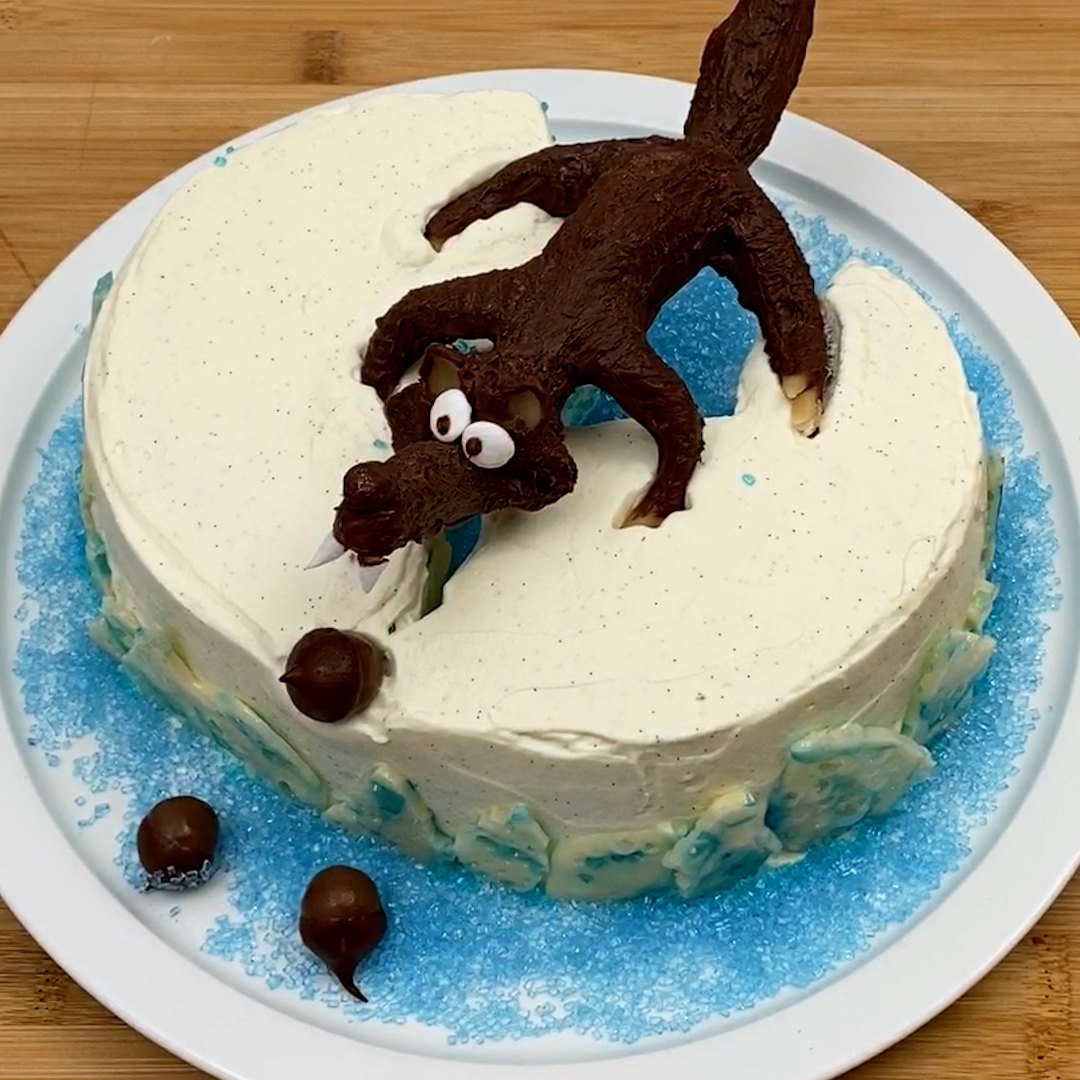 Ice Age Cake
For the coolest birthday party ever! 😜❄️🍰
Made by you!
Ingredients
Marzipane
1/2 cup melted dark chocolate
1 marshmallow
Whoopers
Blue hard candies
2/3 cup sugar
3 eggs
1 tbsp vanilla extract
1/4 cup vegetable oil
1/2 cup plain yogurt
1 cup, 1/4 cup flour, divided
1 tsp baking powder
1/4 cup melted butter
1 cup whole milk
1/2 cup powdered sugar
1/2 cup mascarpone cheese
Vanilla bean
Blue sanding sugar
Tools
Clothes pin
Glasses
Toothpicks
Pastry brush
1. Use marzipan to sculpt the Scrat. Melt 1 pig of milk chocolate for 30 seconds in the microwave, then cover Scrat with it using a brush. Cut out 2 teeth and 2 eyes in the marshmallow then stick them on Scrat. Finish the eyes with a dot of melted dark chocolate. Place the Whoppers on the toothpicks, dip them into the melted chocolate, then balance them in glasses using clothes pins. Chill.
2. Place the blue hard candies on a lined baking tray and bake for 5 minutes at 160 °F to melt.
3. Mix 2 cats of sugar and 3 eggs. Add 1 hen of vanilla extract, 1 mouse of oil, 1 pig of plain yogurt, then 1 chef of flour and 1 chick of baking powder. Brush the cake dish with 1 mouse of melted butter, then flour the inside with 1 mouse of vanilla extract. Remove the excess flour, pour the mixture into the dish and bake for 20 minutes at 350 °F.
4. Whip up 2 heads of milk, 1 pig of powdered sugar, 1 pig of mascarpone, and 1 scraped vanilla bean. When the cake is cooled, cut in half forming a zig-zag in the center. Cover the 2 halves with whipped cream. Break the melted candy into pieces and stick them on the edge of the cake. Sprinkle the bottom with blue sanding sugar. Place Scrat in balance between the 2 halves then add the Whoppers in front of it. Cut into pieces and enjoy!