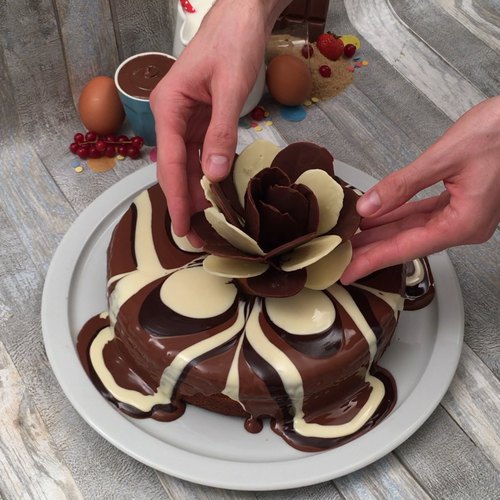 Cake Decorating Hack for Chocolate Lovers
Speak chocolate to me. 💦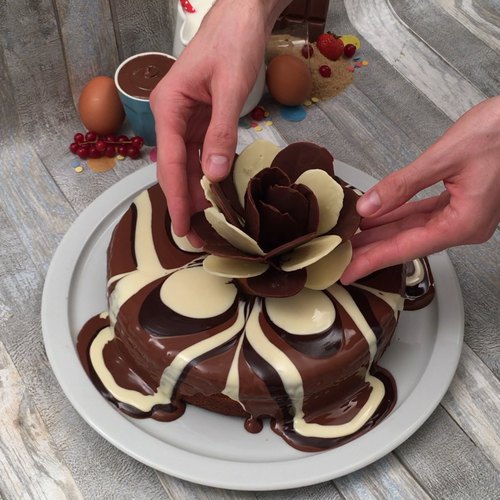 ---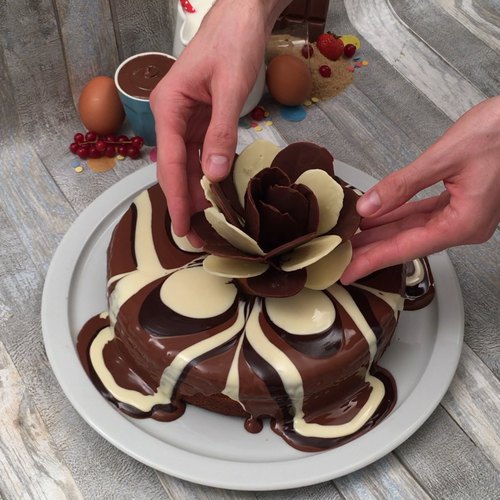 ---
Ingredients for 8 people
chocolate spread
1 cake
dark chocolate, melted
milk chocolate, melted
white chocolate, melted
---
Tools
Parchment paper
Plastic bottle
---
Step 1/4
Bake your favorite cake and cut a 1-inch thick layer off the top. Remove the layer and put it aside. Use a glass to remove 4 rounds from the middle of the cake. Fill the rounds with chocolate spread of choice and replace the top layer.
Step 2/4
Cut the bottom off of the plastic bottle and place it on the center of the cake. Alternate pouring the melted dark, milk, and white chocolate over the bottle piece.
Step 3/4
On a sheet of parchment paper, use melted milk and white chocolate to create 10 flower petals. Top with another sheet of parchment paper and repeat to create another sheet with 10 petals. Roll one of the sheets of petals and place both sheets in the freezer.
Step 4/4
Arrange the flat petals in a bowl, alternating milk and white chocolate petals and using melted chocolate to adhere them together. Add the curved petals to the middle to complete the flower. Remove the bottle piece from the center of the cake and replace it with the chocolate flower. Enjoy!