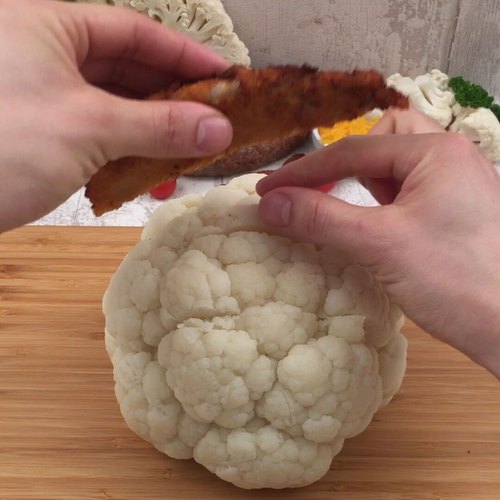 Cauli-Bomb
An explosion of bacon-wrapped flavor. 💣🥓💥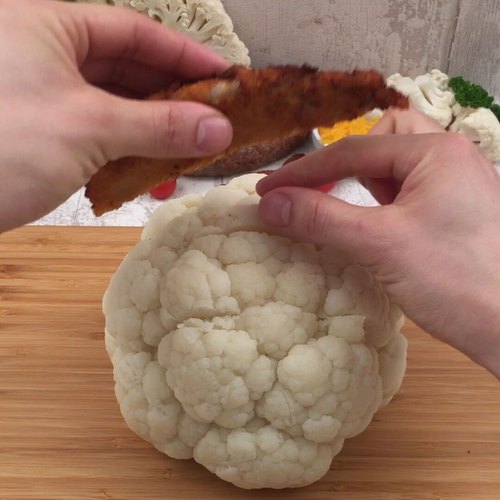 ---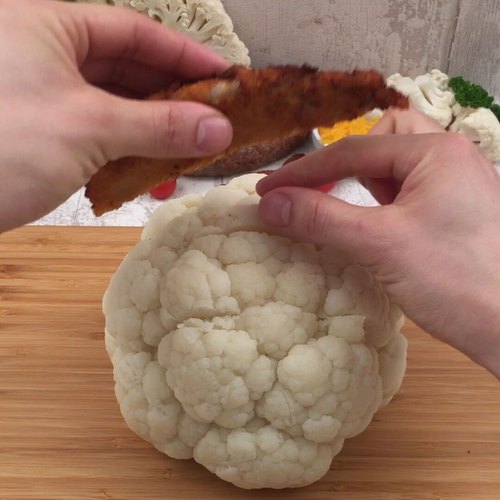 ---
Ingredients for 6 people
1 head of cauliflower
3 breaded chicken cutlets
30 slices of bacon
1 pizza dough
6 cooked sausages
cream sauce
1 egg, beaten
cheddar, melted
parsley
---
Step 1/3
Place head of cauliflower into salted boiling water and cook until tender. Drain and cut 3 rows into the cauliflower. Fill each with half a breaded chicken cutlet.
Step 2/3
On top of plastic wrap, create a lattice weave with the bacon. Place the cauliflower cutlet-side down on to the woven bacon. Use the plastic wrap as an aide to cover the cauliflower entirely in the bacon. Place in the fridge.
Step 3/3
On top of a pizza dough, place 6 sausages to form a ring. cover the sausages with the pizza dough creating a "stuffed crust." Slice the pizza-dough wrapped sausages all round about 1-inch apart. Then twist each piece so that the sausage faces up. Cover the center with cream sauce of your choice (alfredo or bechamel). Place the bacon-wrapped cauliflower in the center (ensuring all plastic has been removed). Brush pizza dough with beaten egg. And bake for 35 minutes at 350 °F. Once baked, pour melted cheddar cheese around the cauliflower and sprinkle with parsley.