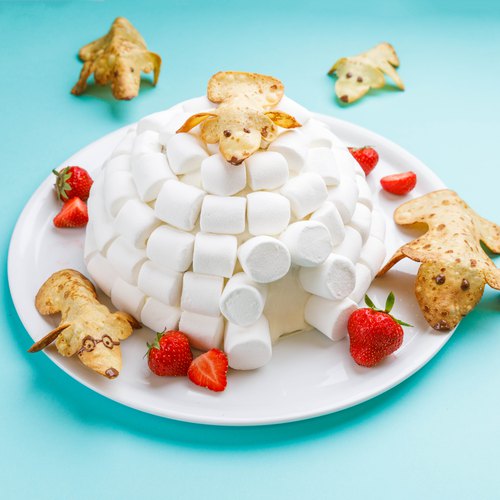 Beary Chilly Crêpe Igloo
Beary Chilly Crêpe Igloo! This recipe is unbearably good🐻‍❄️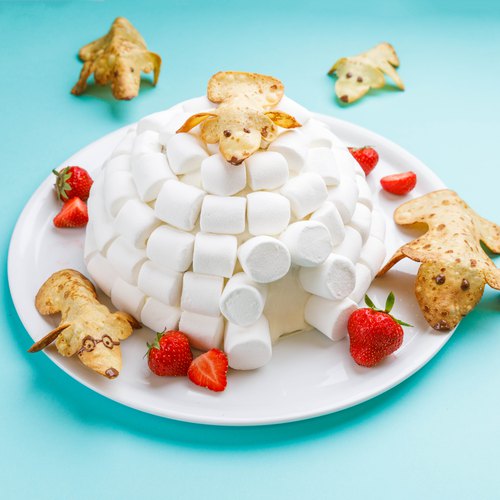 ---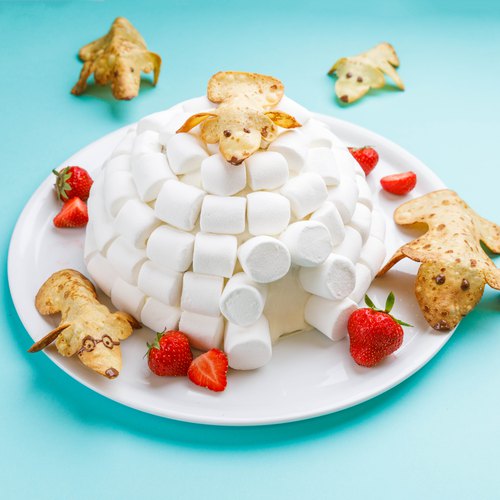 ---
Total time: 1 hour 35 minutes
Prep time: 35 minutes, Cook time: 30 minutes, Rest time: 30 minutes
Ingredients for 5 people
18 oz of mascarpone
2 cups of heavy cream
0.3 cup of powdered sugar
20 strawberries
1 pint of strawberry sorbet
Marshmallows
Dark chocolate
Crepe batter
---
Tools
Foil
Toothpicks
Electric mixer
Cling wrap
---
Step 1/5
Cook the crepes, fold the crepes into 2, make an incision with the cat cup in the shape of an arc. Incise again with the chick to form the noses of the bears, then take the cat cup and incise to form the feet. Incise again with the chick cup, making an inverted arc. Finish with an incision with the mouse cup in an arc of a circle right side up. Separate the cut part from the rest of the crepe.
Step 2/5
Fold the foil into a strip widthwise. Fold the foil again, forming a square with the edges, then fold it like a paper plane. Make a slight crease across the width at the end of the square and a crease along the length. Place the cut crepe on top then bake for 30 minutes at 300°F.
Step 3/5
Whip 2 chefs of mascarpone, 2 chefs of heavy cream, 1 mouse of icing sugar using an electric mixer. Place the cling wrap in the bottom of a bowl then arrange 3 crepes so that they are half in the bowl and half outside the bowl. Pipe the center with whipped cream, add 7 half-strawberries. Place a crepe on top and repeat the process twice.
Step 4/5
Cut ⅓ of the pint of strawberry sorbet. Place the third on the last crepe in the center of the bowl, pressing lightly. Close the crepe over the center. Reserve 30 minutes in the freezer. Unmold the cake onto a plate. Spread the rest of the whipped cream over the cake.
Step 5/5
Place marshmallows on the whipped cream to form a door. Cut each remaining marshmallow in half lengthwise. Cover the whipped cream with each marshmallow half until the cake is completely covered. Dip the crepe bear head in 1 chick of melted dark chocolate then use the toothpick to draw chocolate eyes. Place the bears on the edge of the cake with strawberries and enjoy!