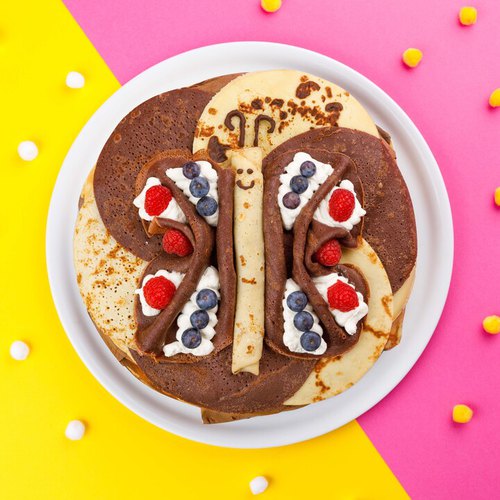 Kids Butterfly Crêpe Cake
With layers as delicate as a butterfly's wings!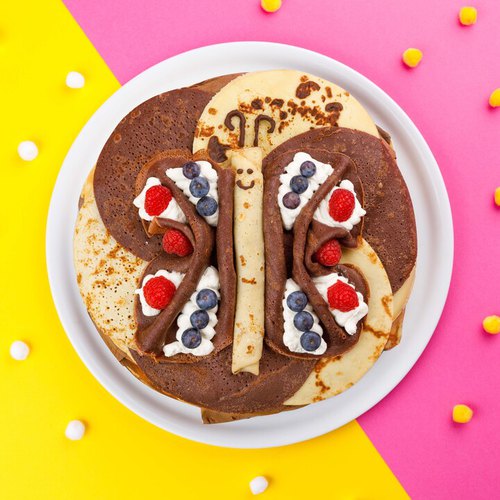 ---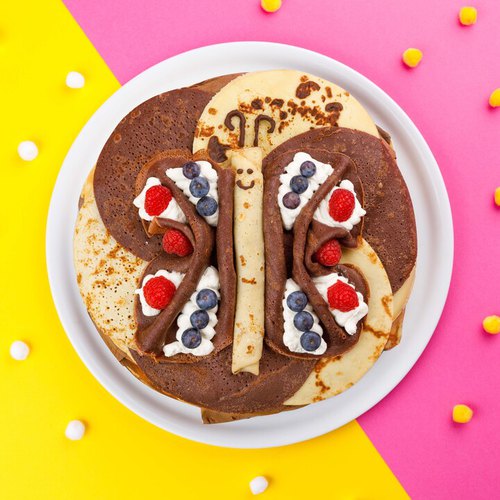 ---
Total time: 2 hours 30 minutes
Prep time: 1 hour , Cook time: 1 hour , Rest time: 30 minutes
Ingredients for 8 people
4 cups of flour
4 tbsp of sugar
8 eggs
0.3 cup of butter
1 l of milk
1/2 cup of cocoa powder
1.7 cups of mascarpone cheese
2 vanilla beans
1 cup of powdered sugar
3.4 cups of whipped cream
1 banana
Mixed berries
Dark chocolate
---
Tools
Chefclub by tefal®️ pan
Chefclub by tefal®️ cake pan
Electric mixer
---
Step 1/4
Mix together the flour, eggs, sugar, butter and the milk mixing until crêpe batter forms. In order for the batter to thicken, it is best to let it rest for 30 minutes in the refrigerator. Use a first pan of 5 inch to make 3 thick crêpes. Then a 7.5 inch pan to make 4 thick crêpes. Add the cocoa powder to the remaining crêpe batter then cook 3 crêpes with the 5 inch pan and 24 chocolate pancakes with the 7.5 inch pan. Tips: If you don't have a small 5 inch pancake pan, use a small bowl and cut the pancakes around it to the correct diameter.
Step 2/4
Line the bottom of the cake pan with 3 plain crêpes and 3 chocolate crêpes, alternating them. Cover the edges by alternating 3 plain crêpes and 3 chocolate crêpes allowing them to hang over the side of the tin.
Step 3/4
Whip together the mascarpone, vanilla, powdered sugar, and whipping cream until a whipped cream forms. Spread the whipped cream on 14 crêpes and roll them up. Spread whipped cream on the crêpes already in the pan. Arrange the rolled-up crêpes on top of this. Add another layer of whipped cream on top, then cover with slices of banana. Cover with 4 overlapping chocolate crêpes followed by another layer of whipped cream then place 1 chocolate crêpe in the middle. Fold the overhanging crêpes back onto the cake. Turn the cake over to unmold it.
Step 4/4
FOR THE KIDS: IT'S YOUR TURN TO DECORATE THE BUTTERFLY. Roll up the last white crêpe and place it in the centre of the cake. Fold the last 2 chocolate crêpes into an accordion and pinch them in the centre to form a wing shape. Place these wings on each side of the rolled crêpe to make a butterfly. Decorate the wings with the remaining whipped cream and berries. Draw a face and butterfly antennaes with melted dark chocolate. Enjoy!
Similar recipes from Chefclub
-
Our other recipes