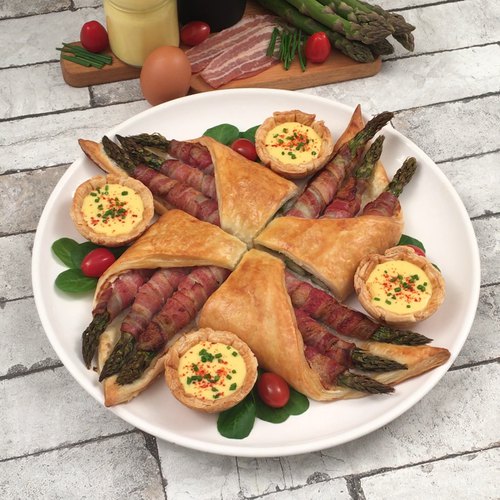 Asparagus Pinwheel
Asparagus Pinwheel! A brunch idea to spin for! 🌀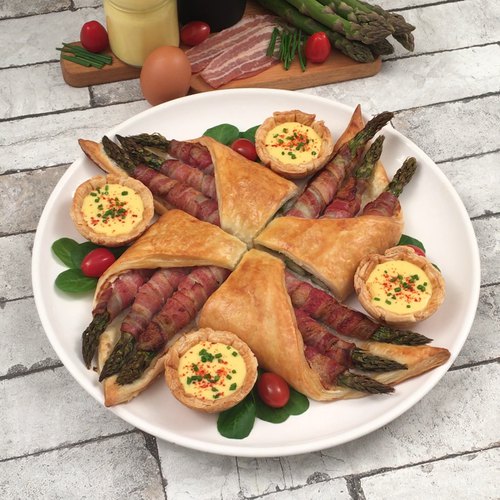 ---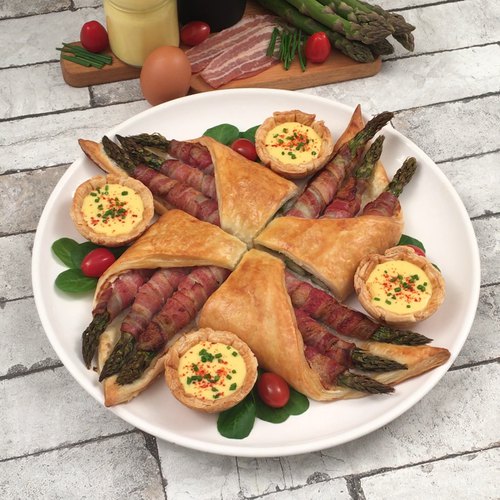 ---
Ingredients for 4 people
2 sheets of puff pastry
12 asparagus
12 slices of bacon
1 egg
1 cup of hollandaise sauce
chives
chili powder
---
Step 1/5
Clean the green asparagus and cut off the ends. Wrap each asparagus with a slice of bacon.
Step 2/5
Knead the puff pastry and roll it out. Cut out the largest possible square and keep the remaining puff pastry well. Place a small bowl in the middle of the dough and make 4 diagonal cuts, each from the edge of the bowl to the corners.
Step 3/5
Place three asparagus parallel to the cut in the dough, leave one cut free and place another asparagus triplet on the next cut edge. Repeat the process twice more. Now place the tips of the dough to the right of the asparagus and press well to form little pockets.
Step 4/5
Roll out the remaining puff pastry and cut into small strips. Line 4 small bowls with the pastry, but place one strip after the other in a fan-like pattern. Put the asparagus wheel and the small bowls on a baking sheet covered with parchment paper. Whisk the egg and spread it over the dough. Bake at 350 °F for 15 minutes.
Step 5/5
Warm the hollandaise sauce. Arrange the asparagus pinwheel on a plate. Remove the small pastry bowls from the molds and place them between the asparagus wings. Pour the sauce hollandaise into the small pastry bowls. Sprinkle chives and chilli powder on the sauce and dip the asparagus. Enjoy!