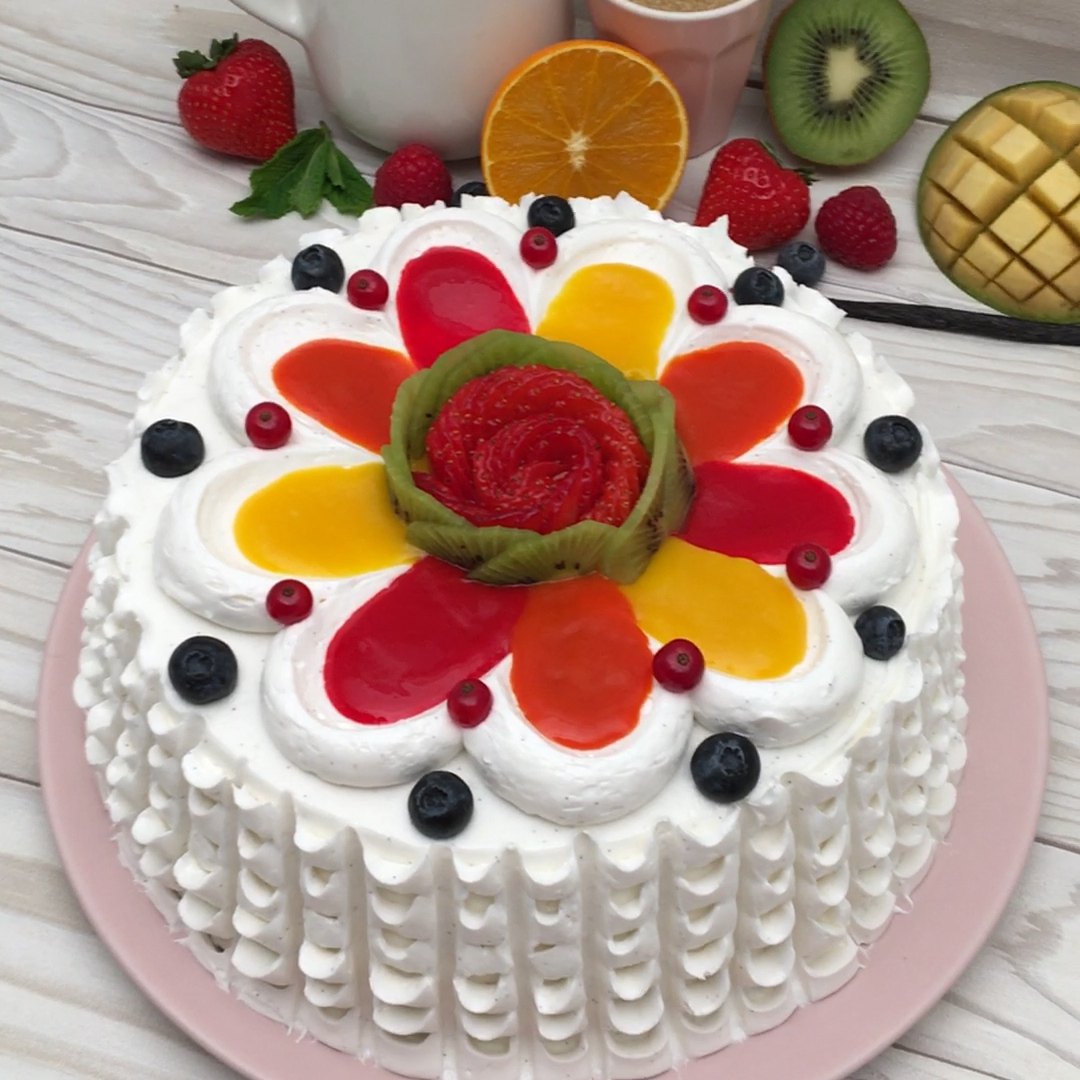 Ice Cream Cake à la Fruit
It's the most beautiful! 😱🍓🍊🥝😍
Total time: 60 minutes
Ingredients for 8 people
1 orange, peeled and sliced
Kiwis, peeled and sliced
Strawberries
Raspberries
Blueberries
Chefclub vanilla ice cream
Yellow cake, baked and cooled
Whipped Cream
Fruit sauce
---
Tools
Plastic wrap
Cake pan
Piping bag
Skewer
Spoon
---
Step 1/3
Make a fruit rose by first cutting the strawberries in half vertically then slicing each half horizontally. Arrange the slices in a row so that they are overlapping. Roll up the row of strawberry slices to form a rose. Next, cut in half slices of kiwis and arrange in a row so that each slice is overlapping. Roll up the row of kiwis around the strawberry rose. Set aside.
Step 2/3
Line a cake pan with plastic wrap. Arrange an orange slice in the center of the pan then use half of the remaining berries and kiwis to create the design of your choice. Cover the fruit with ice cream. Arrange the remaining fruit on top of the ice cream in the same design as before. Freeze for 1 hour until solid. When it's ready, place between two layers of the yellow cake.
Step 3/3
Using a piping bag, cover the cake with whipped cream making sure to not smooth down the sides of the cake. Using a skewer, draw lines in the whipped cream creating a unique design on the side. Pipe balls of whipped cream on top then, using a spoon, create a flower by gently pulling the spoon through the balls of whipped cream towards the center of the cake. Fill in the whipped cream flower with fruit sauce. Place the strawberry and kiwi rose in the center. Cut a slice and enjoy!