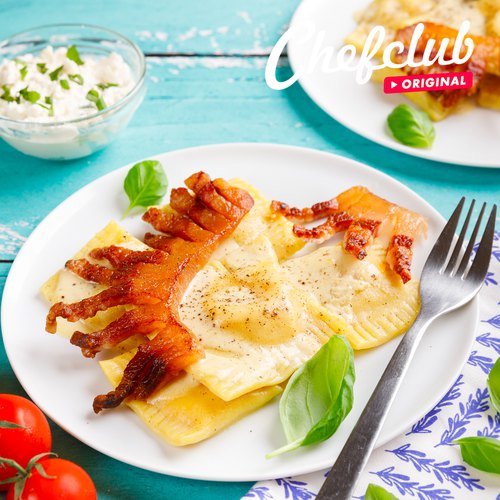 Carbonara Ravioli
Carbonara Ravioli! Your guests will be raving about this ravioli 🍝🧀🤩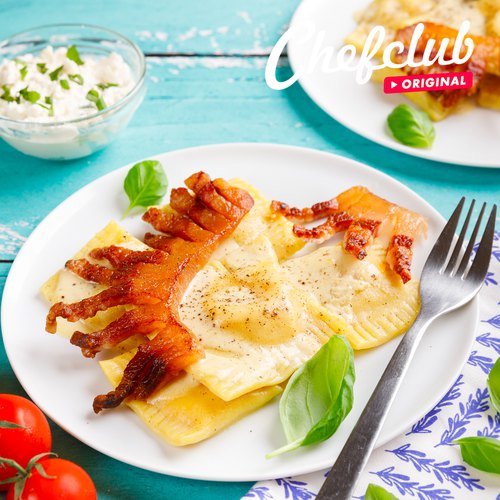 ---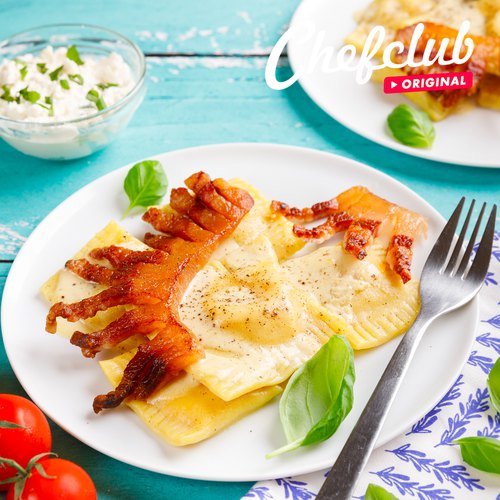 ---
Total time: 40 minutes
Prep time: 20 minutes, Cook time: 10 minutes, Rest time: 10 minutes
Ingredients for 4 people
4 egg
4.2 oz of ricotta cheese
1 oz of parmesan
Pepper
3 1/2 oz of speck ham
7 oz of pasta dough
---
Step 1/3
Roll out the pasta dough into a rectangle. Whisk an egg yolk and brush the edges with it. Fold in half, press the overlapping edges together with a fork and cut into 3 pieces.
Step 2/3
Separate the remaining eggs and put one egg yolk in each pocket, press the edges together again with the fork. Repeat with the rest of the dough. Refrigerate for 10 minutes. Boil in salted water then fry in a pan.
Step 3/3
Mix the parmesan, egg yolks and pepper. Add to the pan to make a sauce. Cut bacon into strips (do not cut all the way through) and fry until crispy. Arrange pasta and bacon on plates. Serve and enjoy!