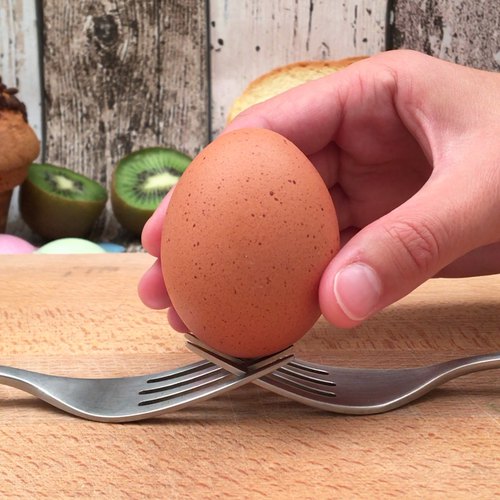 9 New Uses for Your Silverware
Did you know you can open a bottle of wine with a fork? 🍴🍷🍴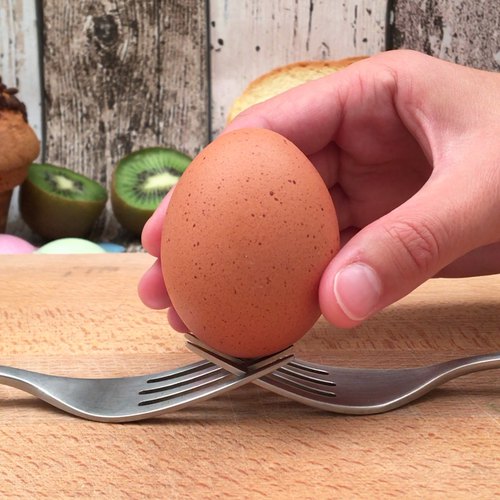 ---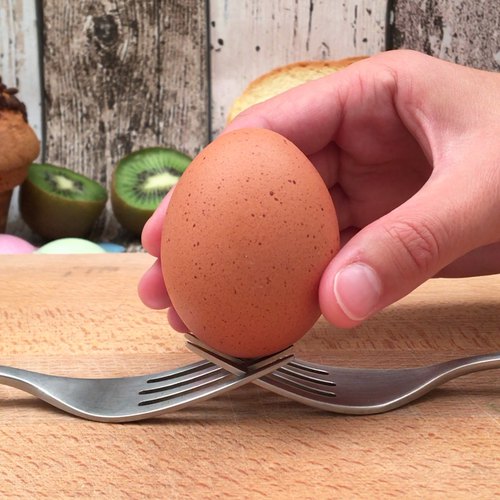 ---
Total time: 10 minutes
Prep time: 10 minutes
Ingredients for 4 people
soft-boiled eggs
wine bottle
pie dough
chocolate mousse
cocoa powder
chips
parsley
icing sugar
ginger
kiwis
---
Tools
Forks
Soup spoons
Tea spoons
Screwdriver
Screw
Elastic bands
Glass
Slotted spoon
Slate serving board
---
Step 1/11
Place 2 forks with the tines facing upwards, one in front of the other, nesting the tines into each other. Place a soft-boiled egg on the tines to make an egg cup.
Step 2/11
Using a screwdriver, insert a screw into the cork of a wine bottle, leaving it protruding a bit. Place the screw between the ties of a fork and use it to pry and remove the cork.
Step 3/11
Place tea spoons on a pie dough and cut it out around the spoons. Place the spoons, with the bulging part upwards, on a baking sheet lined with parchment paper and place the pastry spoons on top of each one. Bake for 15 minutes at 350 °F then use the pastry spoons to eat chocolate mousse.
Step 4/11
Cut out discs of pie dough with a glass. Dip the tines of a fork in cocoa powder and then press them horizontally 4 times into the edges of half the discs. Dust cocoa powder through a slotted spoon onto the other half of the discs. Bake for 15 minutes at 350 °F then enjoy with whipped cream.
Step 5/11
To close an opened chip bag, roll the top of the chip bag between the 1st and 2nd tines of a fork and then between the 3rd and 4th to secure it.
Step 6/11
Push the tines of a fork horizontally into a pie dough to draw 4 small lines and do the same right next to it turning the fork 90°. Repeat on the entire dough. Place this dough on an unbaked pie and bake for 25 minutes at 350 °F.
Step 7/11
Place 2 forks back to back and secure the parts with tines together with a rubber band. Use the opposite ends as tongs for cooking.
Step 8/11
Form a bunch of parsley and run the stalks through the tines of a fork. Move the fork towards the leaves to strip them.
Step 9/11
Arrange a fork and a spoon in an X on a slate serving board and dust them with icing sugar. Remove the cutlery to obtain a nice decoration for a dessert.
Step 10/11
Instead of a peeler, grate the ginger's skin off with the edge of a spoon. This allows you to be more precise.
Step 11/11
Cut off the 2 ends of a kiwi and pass a teaspoon between the flesh and the skin, going all the way around to get the flesh out in one piece.
Similar recipes from Chefclub
-
Our other recipes