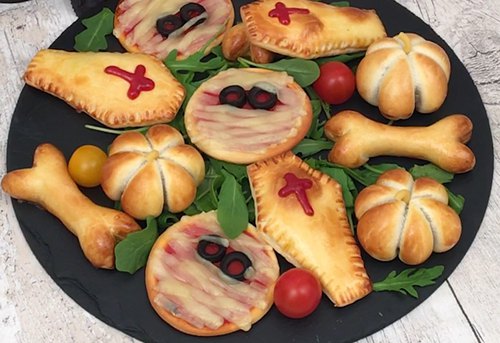 Halloween Pizza Bites
Some freaky pizza to make your halloween party extra special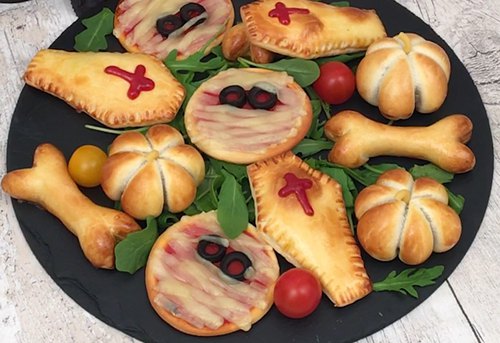 ---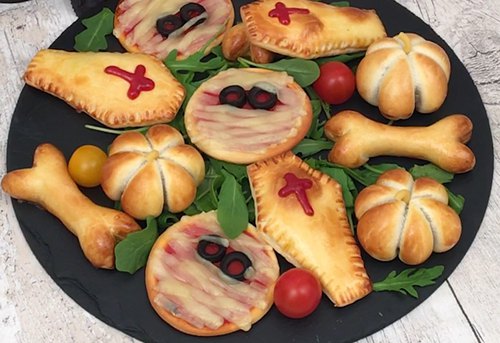 ---
Ingredients for 6 people
2 pizza dough
1/2 cup of tomato sauce
2/3 cup of grated mozzarella
2 destoned black olives
3 slices of emmental cheese
1/8 cup of ground beef
3 mini mozzarella balls
1 egg yolk
3 macaroni pasta pieces
---
Step 1/4
Draw 6 coffins, 6 circles and 3 rectangles in the pizza dough. Brush 3 coffins with tomato sauce, sprinkle with grated mozzarella cheese and cover with the other 3 coffins, then seal together with a fork.
Step 2/4
Brush 3 circles with tomato sauce. Cut the olives into 6 slices and the slices of emmental into thin slices. Place 2 slices of olives on the 3 circles to form eyes and then cover the rest of the face with strips of cheese to make a mummy. Form 3 discs with the ground beef and roll in the mozzarella balls. Cover these balls with the remaining 3 circles of dough and tie them with string around like a pumpkin.
Step 3/4
Sprinkle the 3 rectangles with grated mozzarella paste and roll them into a sausage. Mold them so that the ends are wider and rounder than the center. Cut a notch on each end to form bones.
Step 4/4
Place all the petits fours on the baking sheet covered with parchment paper and brush them with egg yolk. Bake for 20 minutes at 350°F. Once baked, draw ketchup crosses on the coffins, remove the string and place a macaroni pasta piece in the center of the pumpkins and enjoy your spooky appetizers!