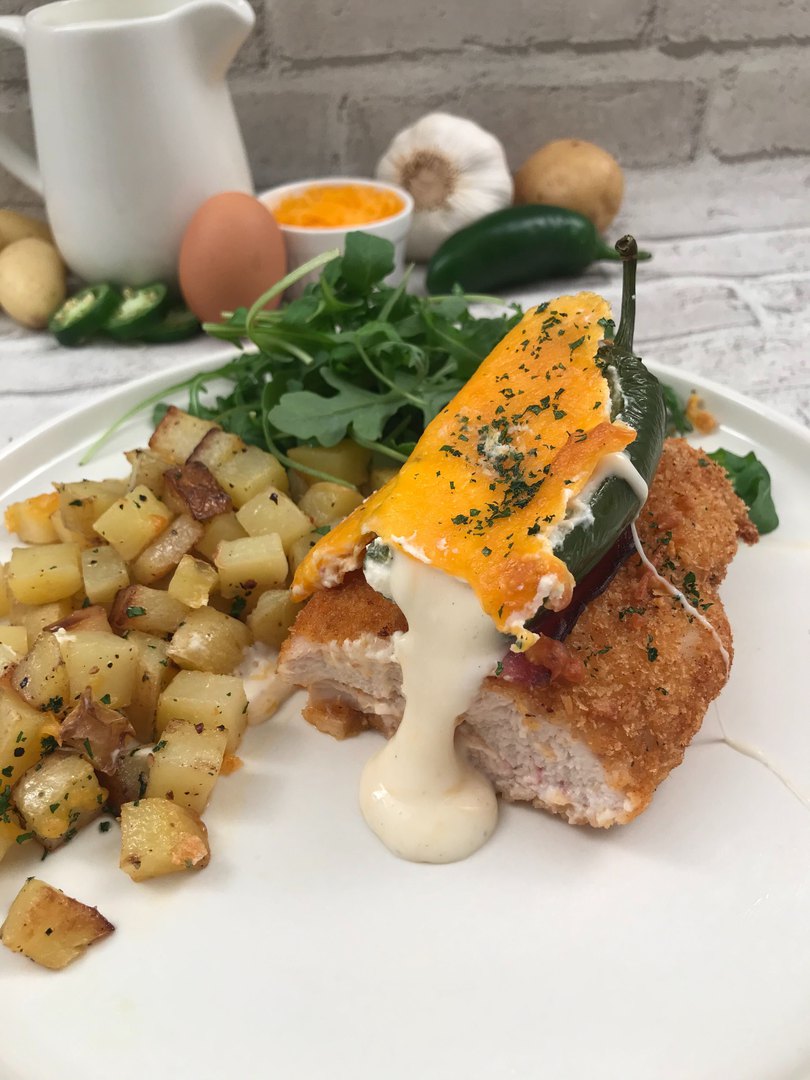 Easy Stuffed Chicken Breasts
Smothered and covered in jalapeño popper realness! 🍗😋🧀
Total time: 90 minutes
Ingredients for 4 people
4 chicken breasts
2 cups flour
3 eggs, beaten
2 cups breadcrumbs
4 jalapeños, halved and deseeded
1/2 cup cheddar cheese
4 oz cream cheese
4 slices bacon
8 potatoes
Paprika
Garlic powder
Salt & pepper
---
Step 1/3
Cut a slit down the center of each chicken breast. Mix together flour, salt, pepper, garlic powder, and paprika. Cover the chicken breast completely in seasoned flour, then coat in the beaten eggs and finally, coat in breadcrumbs. Cut the bacon stripes in half and place on the inside of the slits.
Step 2/3
In a small bowl mix together half of the cheddar cheese, cream cheese, and garlic powder. Fill jalapeños with cheese mixture. Place the jalapeño popper on top of the bacon in the center of each chicken breast. Cover the jalapeño popper with the rest of the cheddar cheese.
Step 3/3
Cover the bottom of a casserole dish with potatoes. Place chicken breasts on top of potatoes. Bake for 30-40 min at 350 °F. (To ensure your chicken is done, insert a meat thermometer in the thickest part of the meat, it should register 165 °F.) Enjoy!