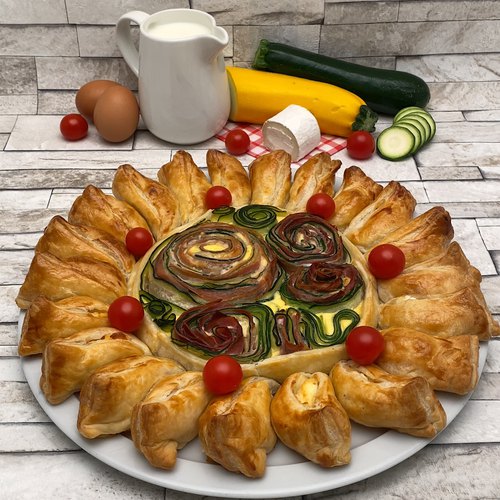 Goat Cheese Quiche
Brunch ready! 😎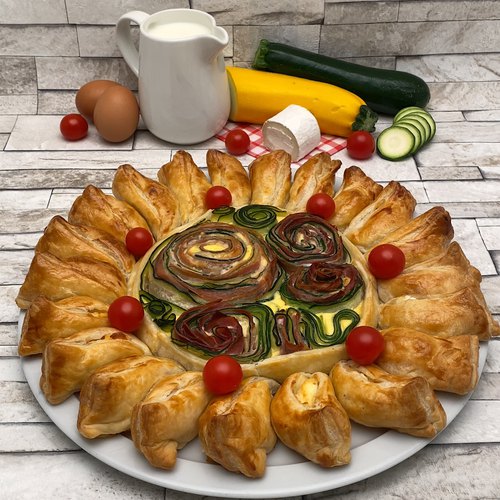 ---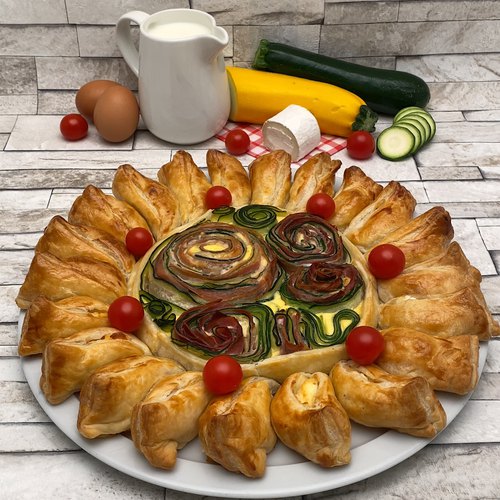 ---
Ingredients for 6 people
2 logs goat cheese
2 sheets of puff pastry
3 zucchinis
15 slices of ham
1 egg
1/2 cup of heavy cream
salt & pepper
---
Tools
Small bowl
---
Step 1/4
Cut the goat logs in half lengthwise and then cut each half into 7 slices. Arrange the slices in a circle, on the edge of one of the puff pastry sheets, with the bulging part upwards, leaving 1 cm between each slice. Cover with the second puff pastry. Place the bowl turned over in the center of the tart and cut between each piece of cheese, from the bowl to the edge, then turn the pieces by 90°.
Step 2/4
Cut the top dough around the bowl to obtain a disc. Remove the bowl to retrieve the disc and then cut it into 4 large slices. Arrange the slices straight on their edges inside the tart, against the cheese to form 1 tart edge. Press the edges together well. Prick the center with a fork.
Step 3/4
Cut each courgette lengthwise into 10 very thin slices and cut the ham slices in half lengthwise. Arrange 5 slices of courgette and 5 half-slices of ham in a long line, alternating them in a row, one on top of the other. Repeat 5 times. Roll up 1 first line on itself and then roll it up in 2 others to form 1 large roll. Roll the other lines on themselves then place all these rolls in the center of the tart.
Step 4/4
Mix the egg and cream with salt and pepper and pour into the center of the pie, over the rolls. Brush the cheese pieces with egg yolk and bake for 30 minutes at 180 °C. Remove from the oven, cut into pieces and eat.