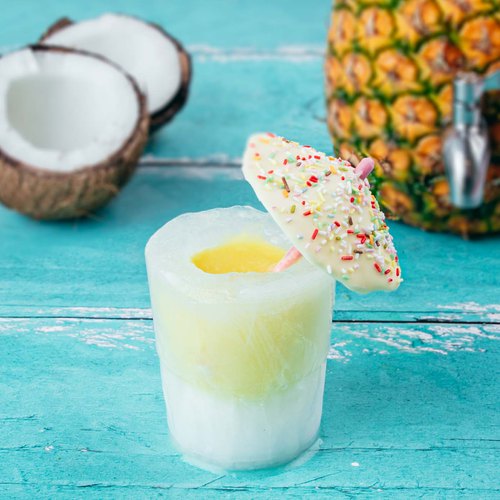 Piña Colada
Piña Colada! Go coco-nuts for this cocktail 😀🍹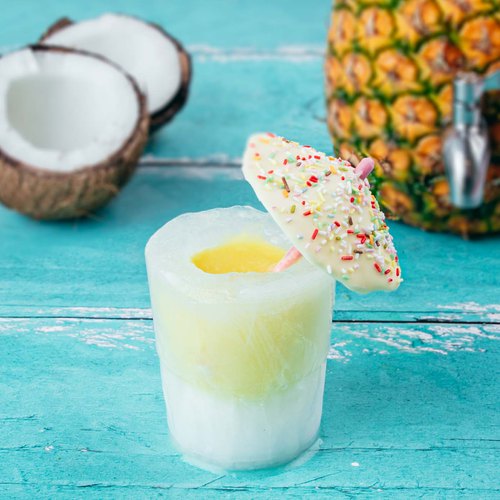 ---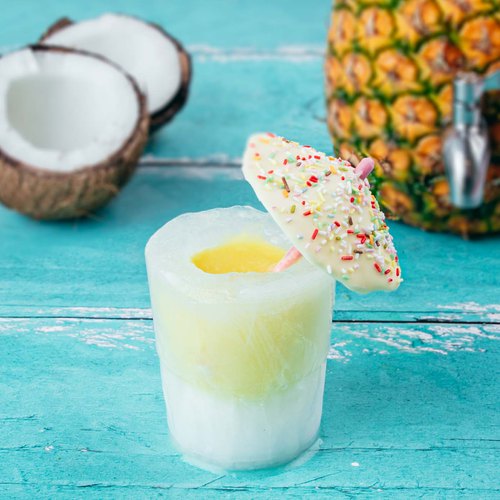 ---
Total time: 7 hours 12 minutes
Prep time: 10 minutes, Cook time: 2 minutes, Rest time: 7 hours
Ingredients for 3 people
1 pineapple
1 coconut cream
Rum
Water
White chocolate
Sprinkles
3 strawberry pocky
---
Tools
Plastic sheet protector
Cocktail umbrellas
Solo cups
Blender
Pineapple corer
Tap for keg
---
Step 1/5
Fill the plastic solo cups with water about 2/3 of the way to the top. Place into the freezer for 5-7 hours. It will be 1/2 inch thick. There will still be water in the center of the cup. Break the thin layer of ice on top and pour out the water in the center to create an ice cup. Remove the ice from the cup and keep the ice in the freezer.
Step 2/5
Slice the top off of the pineapple. Use the pineapple corer to remove the inside of the pineapple. Place the pineapple slices in the blender along with the core and coconut cream. Add rum (this is optional). Chill and reserve. In the side of the pineapple, pierce the skin and attach the tap.
Step 3/5
Cut out circles in the plastic sheet protectors. Fold the circles in thirds then cut a small hole in the point to create a hole in the center of the circle. Cut through to the center of the circle. Using a hot fork, press down to adhere the plastic to itself to create more of a cone shape that resembles cocktail umbrellas.
Step 4/5
Place the plastic cone on top of the umbrella. Dip the umbrellas into the melted white chocolate. Top with sprinkles. Allow the chocolate to set, then carefully remove from the top of the umbrellas. Peel back the plastic sheet. Dip the end of the strawberry cookie sticks in white chocolate then put the white chocolate umbrella on top. Turn upside down on a plate to allow time for the chocolate to set.
Step 5/5
Remove ice cups from freezer. Place the white chocolate umbrellas in the cups. Pour the pineapple-coconut mix into the pineapple. Serve and enjoy!