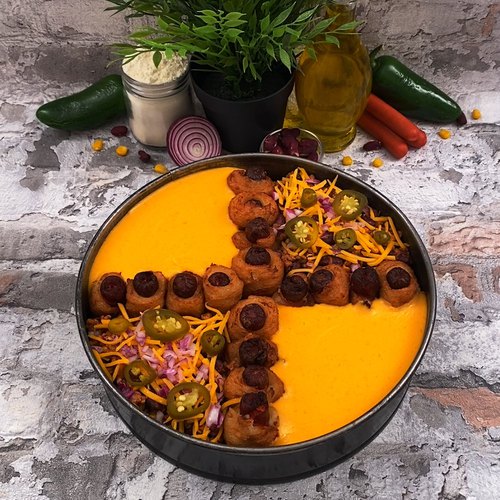 Twisty Hot Dogs!
Get tested before you double dip! 🌭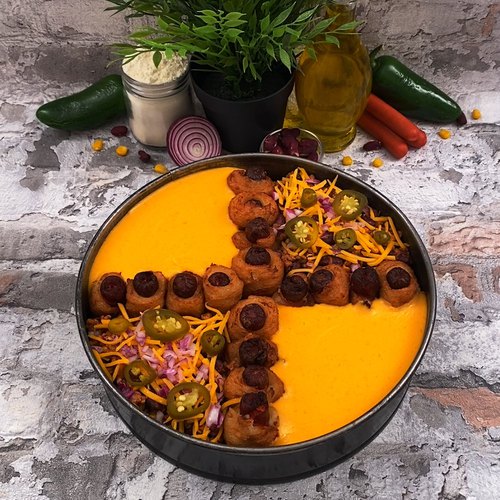 ---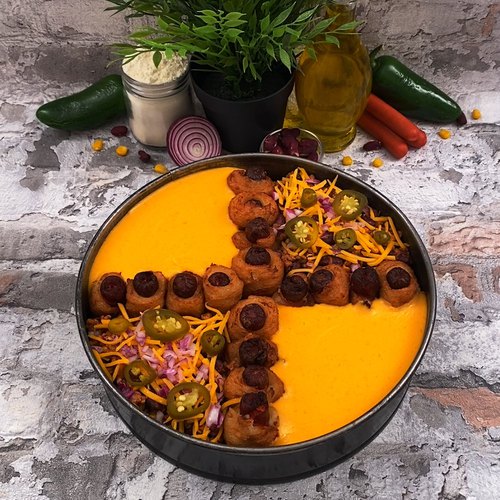 ---
Ingredients for 4 people
hot dogs
1 onion, chopped plus more for garnish
1 lb of ground beef
olive oil
salt & pepper
1 cup of kidney beans
1 cup of corn
1 tsp of cumin
1 tbsp of garlic powder
1 cup of water
2 1/3 tbsp of sugar
vegetable oil
1 cup of flour
melted cheddar cheese
grated shredded cheese
jalapeños
---
Tools
Skewers
Bundt pan
Piping bag
---
Step 1/3
In a medium skillet, sauté together onions and olive oil. Add ground beef, salt, and pepper and cook until brown. Drain the grease, then add kidney beans, corn, cumin, and garlic powder and cook for another 10 minutes.
Step 2/3
In a medium saucepan, add sugar, salt, and 2 1/3 tbsp of vegetable oil to the cup of water. Remove from heat once it boils. Mix in flour until a dough forms. Fill a piping bag with the dough. Insert skewers into the hot dogs. Pipe the dough around the hot dogs. Fry in hot oil until golden brown. When they are finished remove skewers. Line them up and connect them together on each end with skewers, then cut them in half.
Step 3/3
Place the skewered hot dogs in a bundt pan crosswise creating four pockets. Fill two pockets with melted cheese and the other two with chili. Garnish the chili with shredded cheese, chopped onions, and jalapeños. Remove the skewers and enjoy!