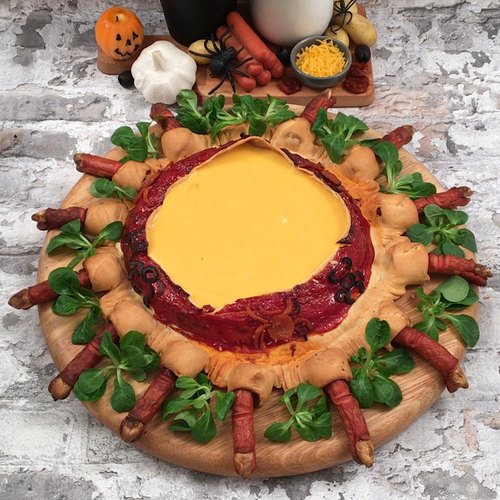 Finger Food
Everything tastes better with a "touch" of cheese!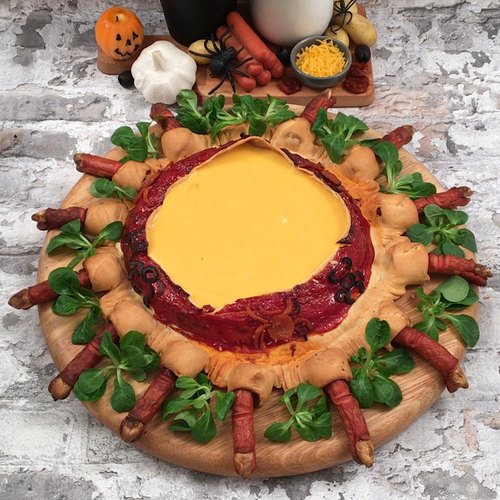 ---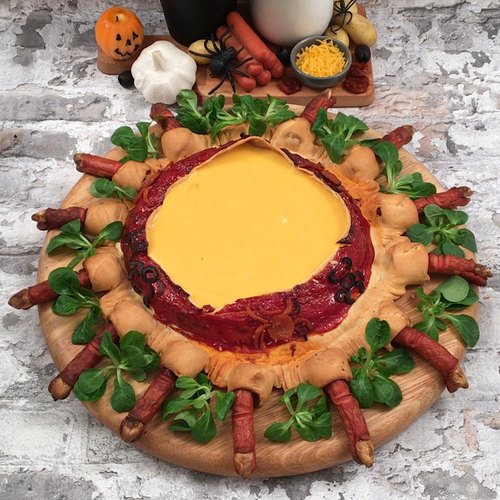 ---
Ingredients for 4 people
10 hot dogs
garlic cloves, sliced
tomato sauce
black olives
pepperoni
cheddar cheese
beer
2 pizza doughs
---
Tools
Straws
---
Step 1/4
Cut off a piece of the end of the hot dog so that it resembles a nail bed. Put garlic slices in the incisions to form fingernails. Cut two slits in the middle of the hot dog. Repeat until there are 10 hot dog fingers.
Step 2/4
Arrange the hot dog in a circle on one pizza dough. Put the fried potatoes in the middle. Put 2 straws together on one side, then place the second pizza dough on top and seal the two doughs together. Use a fork to seal the doughs together, then cut the dough between the hot dogs and fold the dough around the hot dog fingers.
Step 3/4
Spread the top with tomato sauce and top with black olives and pepperoni. Strongly blow in the straws to blow up the pie. Bake for 25 minutes at 360 °F.
Step 4/4
Melt the cheddar cheese with the beer in a saucepan. When the pizza is ready, cut off the top dome and cover the fried potatoes with the cheese sauce. Break off the hot dog fingers to dip into the sauce. Enjoy!