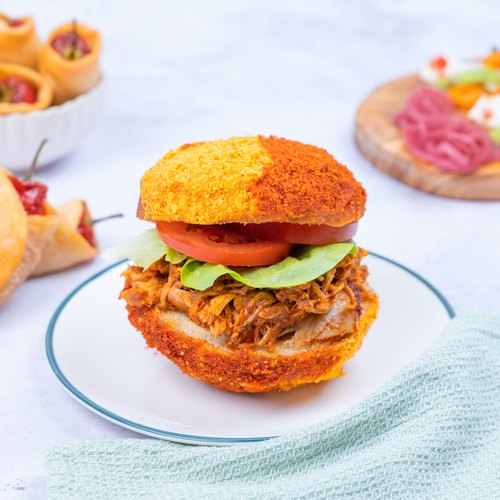 Mexican Donut Burger & Jalapeño Taquitos
Mexican Donut Burger & Jalapeño Taquitos! With a side of guac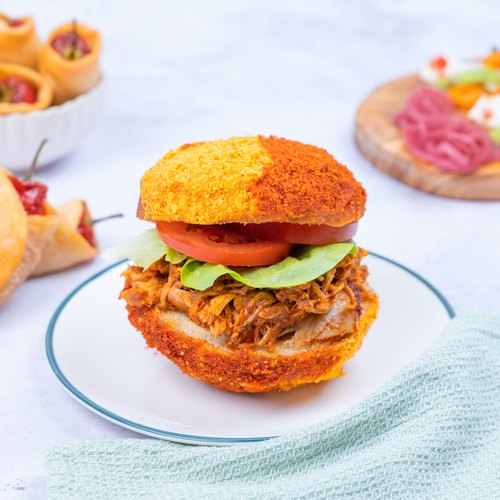 ---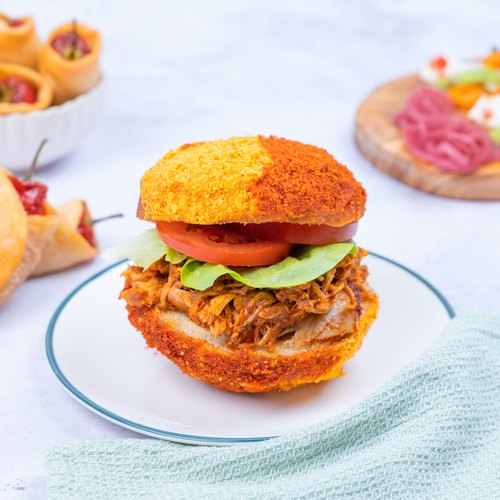 ---
Total time: 35 minutes
Prep time: 15 minutes, Cook time: 20 minutes
Ingredients for 3 people
Donut batter
Oil
Cheese sauce
Doritos
Sriracha hot sauce
Shredded chicken
Lettuce
Tomato
Jalapeños
Cheddar
Cream cheese
Sausages
Pizza dough
Sour cream
Guacamole
Chipotle sauce
Pico de gallo
Pickled red onion
---
Tools
Skewers
---
Step 1/4
Shape the donut batter into circles, press down with a donut press and remove the outer circle. Fry in hot oil until golden brown and place on a rack to drain.
Step 2/4
Remove the top, and inner circle of the donut, dip it in cheese sauce, coat with crushed doritos, and stuff with sriracha. Top the donut with shredded chicken, lettuce, a slice of tomato and another donut. Secure with a skewer.
Step 3/4
Cut a slit down the side of the jalapeño and deseed. Garnish with a cheddar-cream cheese mixture and a small sausage. Wrap in a circle of pizza dough and fry in hot oil until golden brown.
Step 4/4
Spread the chipotle sauce, guacamole, and sour cream on a cutting board. Top with pico de gallo and pickled red onions. Serve with the donut burgers and jalapeño poppers. Enjoy!