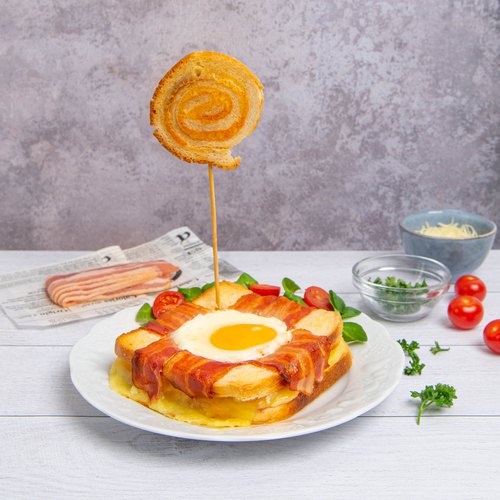 Ham & Cheese Sandwich with Egg
The classic recipe reinvented! 🥓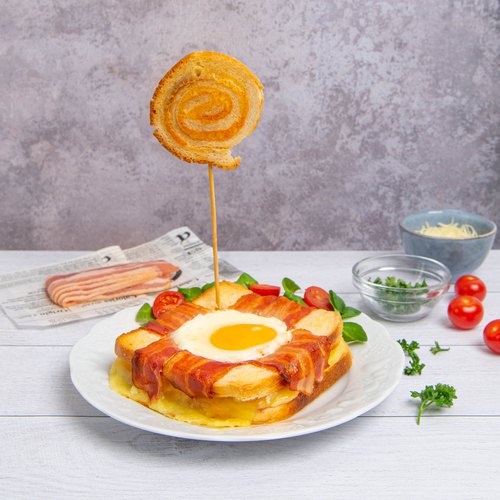 ---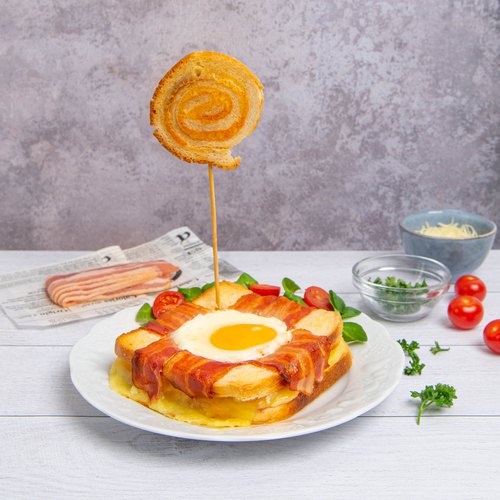 ---
Ingredients for 3 people
9 slices of sandwich bread
9 slices of ham
13 slices of cheese
2 tbsp of butter
2 tbsp of flour
1 1/4 cups of milk
12 slices of smoked bacon
3 eggs
1 tbsp of melted butter
---
Tools
Glass
Skewers
Parchment paper
---
Step 1/4
Place the sandwich bread slices on your work surface along side 3 stacks of ham with 3 slices each and 3 stacks of cheese with 4 slices each. Cut circles in the center of the bread, cheese, and ham using a glass and rearrange the circles as seen in the video. Then cut the crusts off three of the bread slices and save for later.
Step 2/4
Prepare the bechamel sauce: Melt the butter in a saucepan over medium heat, add the flour and then the milk little by little, mixing well until thickened.
Step 3/4
Assemble the 3 sandwiches in the following order as seen in the video: bread, bechamel sauce, ham, bechamel sauce, cheese, bechamel sauce, bread without crust, bread with crust. Place on a parchment lined baking sheet and make a cross with 4 slices of bacon on top of each sandwich. Crack an egg into each hole and bake for 15 minutes at 350 °F.
Step 4/4
Meanwhile, make the bread crust and cheese pinwheels by rolling thin slices of the remaining cheese with the remaining bread crusts into a spiral and piercing with a wooden skewer. Brush with butter and brown in a frying pan. Lastly, add to your baked ham & cheese sandwiches, serve with a salad, and enjoy!
Similar recipes from Chefclub
-
Our other recipes