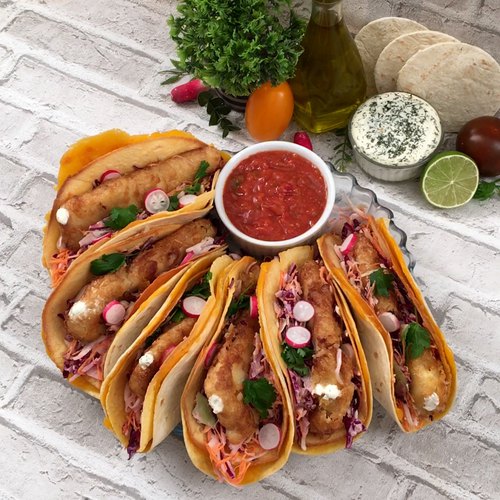 Fish Tacos
Pumped full of jalapeño crema! 🌮🌶😁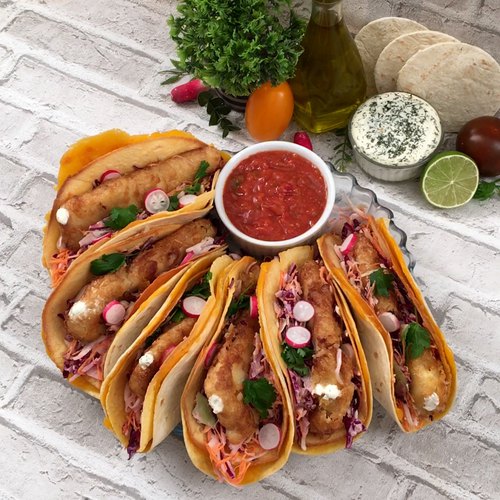 ---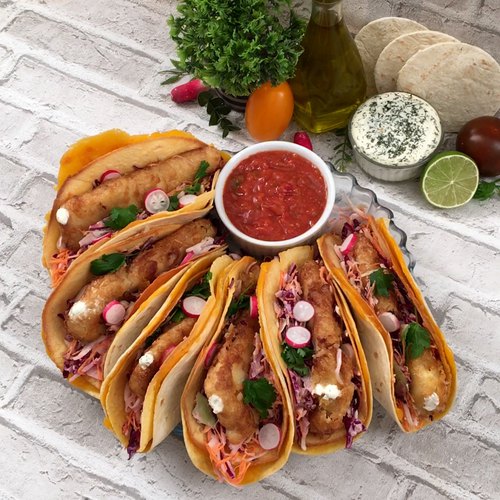 ---
Total time: 1 hour
Prep time: 30 minutes, Cook time: 30 minutes
Ingredients for 3 people
6 corn tortillas
6 flour tortillas
2 cups of cheddar cheese
5 cups of flour
2 eggs
2 tsp of salt, divided
2 tsp of pepper, divided
2 tbsp of garlic powder
33 fl oz of beer
3 cod filets
frying oil
2 cups of sour cream
1 jalapeño
1/2 lemon
3 tbsp of dill
4 cups of grated carrots
4 cups of green cabbage
4 cups of red cabbage
1 tbsp of celery salt
1/4 cup of sugar
1/4 cup of apple cider vinegar
1 3/4 cups of mayonnaise
cilantro
radish
salsa
---
Tools
Oven rack
Squeeze bottle
---
Step 1/4
Prepare the coleslaw: In a bowl mix grated carrots, green cabbage, red cabbage, celery salt, sugar, apple cider vinegar, and mayonnaise.
Step 2/4
For the taco shells: Hang 6 tortilla shells on a grill and bake for 10 minutes at 375 °F. Remove from oven and set aside. In a frying pan over medium heat, place a handful of cheddar cheese. Once melted, press a flour tortilla on top of the cheese and let cook for 1 minute. Then remove the cheesy tortilla and place one of the crispy baked corn tortillas onto the cheesy part of the flour tortilla. Repeat until you have 6 tortilla shells.
Step 3/4
Prepare the fish batter: Mix the flour, eggs, 1 tsp salt, 1 tsp pepper, garlic powder, and beer. Dip the cod filets into the batter and deep fry in hot oil at 360 °F for 3-4 minutes. Cut the cod filets in half. In a small bowl mix together sour cream, jalapeño, 1 tsp salt, 1 tsp pepper, juice of 1/2 a lemon, and dill. Pour into a squeeze bottle and insert the crema mixture into the cod filet.
Step 4/4
For the tacos: Fill each taco shell with coleslaw and a cod filet. Garnish with cilantro and radish. Enjoy with salsa and the leftover crema!