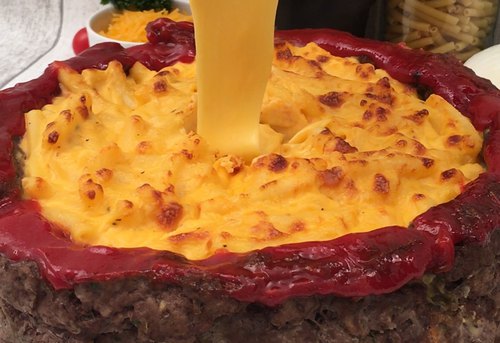 Are you 18 years old or older?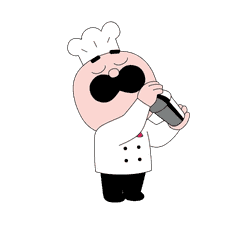 You must have the right to consume alcohol in your country of residence to continue on this site.
Please drink responsibly
Cheesy Meatloaf Masterpiece
One slice for you, the rest for me.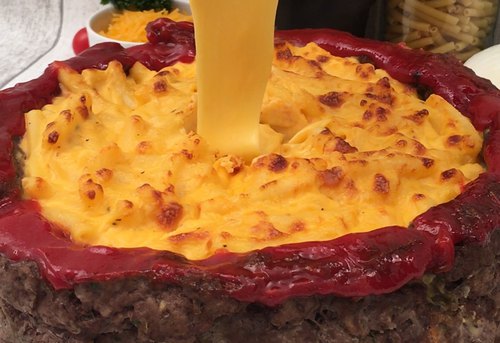 ---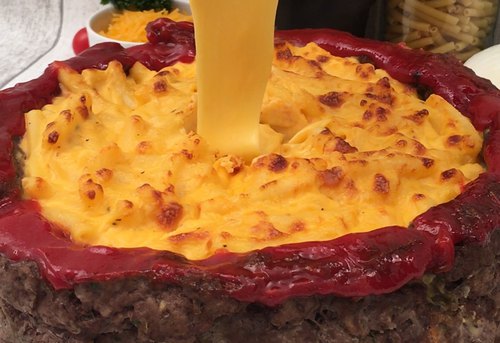 ---
Ingredients for 8 people
1 lb of ground beef
1 onion
2 tbsp of garlic powder
2 tbsp of breadcrumbs
ketchup, to taste
1 egg
2 tbsp of parsley
salt & pepper, to taste
3 cups of cheddar cheese, grated
2 cups of heavy cream
14 oz of (2 bags) macaroni, cooked
---
Step 1/3
In a large mixing bowl, mix together ground beef, onion, garlic powder, breadcrumbs, ketchup, egg salt, and pepper. When combined press into a 10-inch springform pan and bake at 360 degrees F for 12 minutes.
Step 2/3
Meanwhile, make your cheese sauce. In a saucepan add cheddar cheese, cream, pepper and mix until melted. Reserve a cup of cheese sauce and set aside. Combine remaining cheese sauce with cooked macaroni.
Step 3/3
Take your meatloaf out of the oven and fill with mac and cheese. Place an oven-safe glass in the center and bake for 15 minutes. Remove glass and fill center with reserved cheese sauce. Serve warm.
Similar recipes from Chefclub
-
Our other recipes