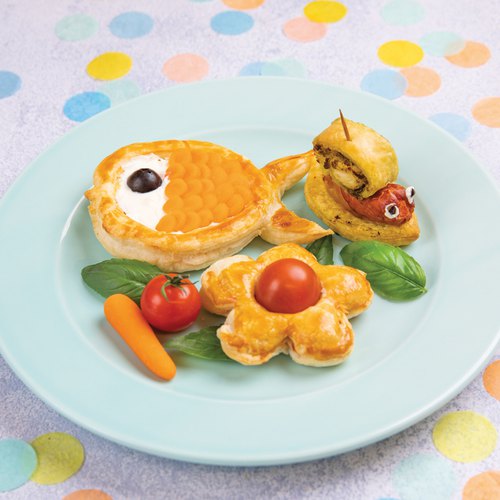 Snack Time Friends
Hurry! These will be all be gobbled up fast!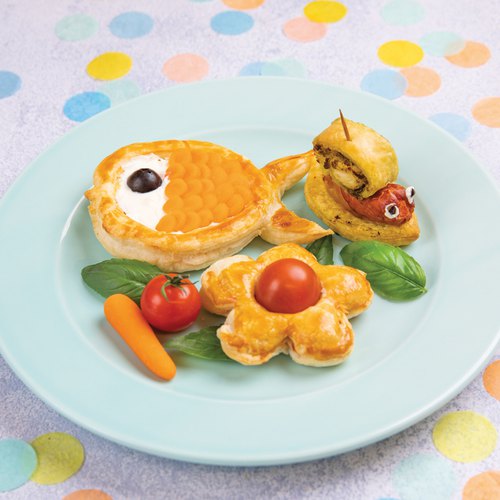 ---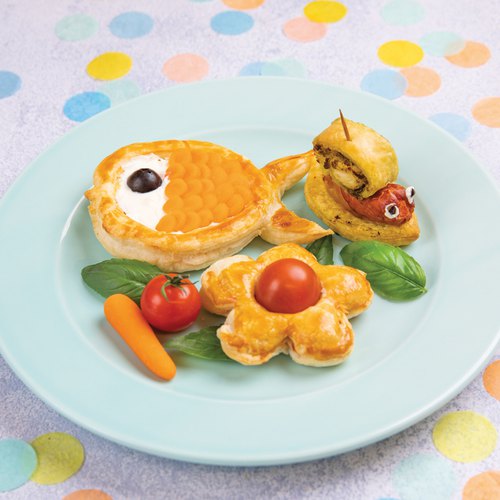 ---
Total time: 1 hour
Prep time: 45 minutes, Cook time: 15 minutes
Ingredients for 5 people
3 puff pastry sheets
6 hot dogs
2 tbsp of pesto
2 egg yolks
5 cherry tomatoes
black olives
3 baby carrots
2 tbsp of cream cheese
tomato sauce
---
Tools
Toothpicks
Pastry brush
parchment paper
---
Step 1/3
Use the chick to cut 10 flowers out of the puff pastry, each with 5 petals. Cut out and remove the centers of half of the flowers. Cut 25 slices of hot dog and place them on the petals of the whole flowers, and cover with the center-cut flowers. Using the pig's ears, thoroughly seal the edges of the flowers. Brush the dough with egg yolk and add a little bit of tomato sauce to the center of the flowers. Bake for 15 minutes at 350° F. After they've been removed from the oven, add 1 cherry tomato to the center of each flower.
Step 2/3
Cut ⅓ of the puff pastry, spread with pesto, and roll it lengthwise. Cut it into 6 pieces. Use the chef to cut 6 leaves out of the remaining puff pastry. Form the central groove of the leaves with a round knife and form the grooves on the sides with the mouse. Cut the ends of 3 hot dogs at an angle 1 inch from the edge. Poke 1 piece of the pesto roll and 1 piece of hot dog with a toothpick to form 1 snail and put it on a baking sheet with parchment paper. Repeat 5 times. Brush the dough with egg yolk and bake for 15 minutes at 350° F. Take the snails out of the oven and use the cream cheese and black olives to make their eyes.
Step 3/3
Use the chef to cut 6 discs out of the remaining sheet of puff pastry. Use the cat to form a moon shape at the end of 3 of the discs to draw fish. Use the cat to remove 1 round center from the middle of the 3 other discs. Lay the round centers on top of the fish and pinch the ends to form the mouths. Use the hen to draw the scales on the tails of the fish. Brush them with egg yolk and bake for 15 minutes at 350° F. Remove from oven and brush the round centers with cream cheese. Then, decorate the scales with baby carrot slices. Form the eyes with the halved olives. Enjoy!