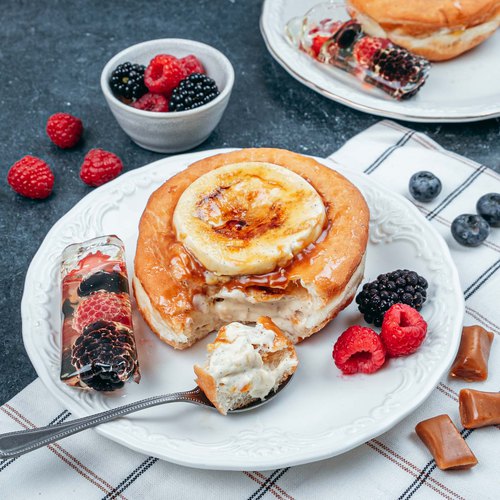 Crème Brûlée Donuts
Crème Brûlée Donuts! You won't resist taking a bite 😚🍩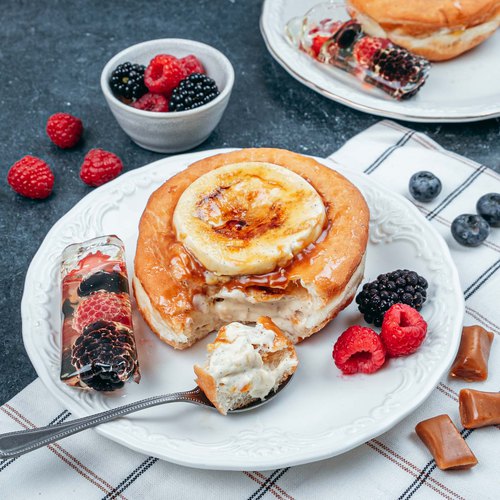 ---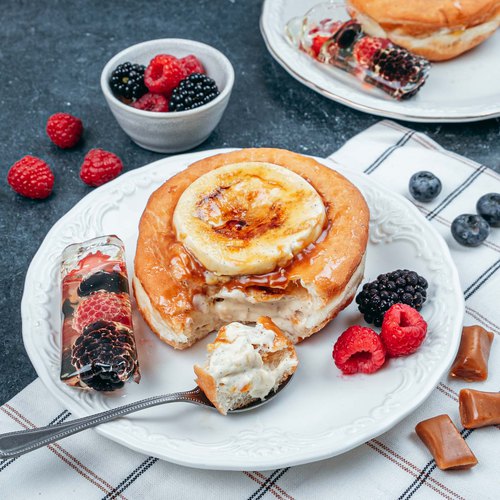 ---
Total time: 4 hours 35 minutes
Prep time: 35 minutes, Rest time: 4 hours
Ingredients for 3 people
2 cups of sugar
10 egg yolks
1 tsp of pectin x58
1 vanilla bean
4 cups of heavy whipping cream
3 donuts
1 tbsp of brown sugar
2 strawberries
3 raspberries
3 blueberries
---
Tools
Small round cookie cutter
Piping bag
parchment paper
Skewers
---
Step 1/3
Mix the egg yolks and 6 tbsp of sugar to blanch the egg yolks. Mix 3 tbsp of sugar with the pectin x58. Bring the heavy cream to a boil with the scraped vanilla pod. Add the pectin mixture x58 and bring to a boil again, stirring. Pour the mixture over the blanched egg yolks, mix again and pour the mixture into a silicone mold and set aside for 4 hours in the freezer.
Step 2/3
Cut out 3 circles in the crème brulée preparation using a circular cookie cutter. Place the crème brulée circles on the donuts, sprinkle with brown sugar. Heat a tablespoon and press down on the brown sugar to caramelize. Place the rest of the crème brulée in a piping bag and fill the donuts with the crème brulée.
Step 3/3
Cut the strawberries into pieces. Spread the rest of the sugar on the baking paper, add 5 tbsp of water and heat in the microwave for 2 minutes. Skewer the strawberries, raspberries, blackberries and blueberries on a skewer. Wrap the skewer in the sugar syrup and let crystallize. Repeat the process to have 3 skewers. Remove the skewer from the fruit, arrange the donuts with crème brulée on a plate. Add the crystallized fruit next to it and enjoy!