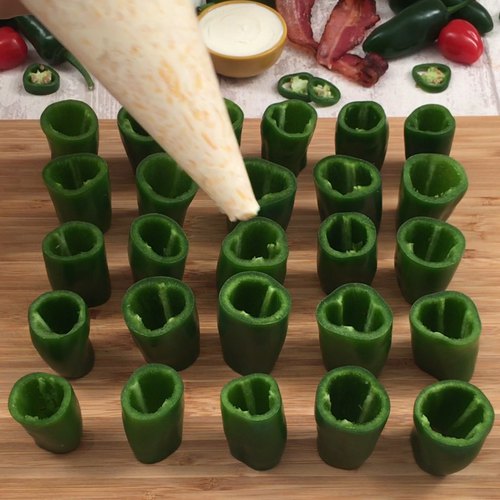 Jalapeño Popper Pizza
Once you start you can literally never stop! 🍕🌶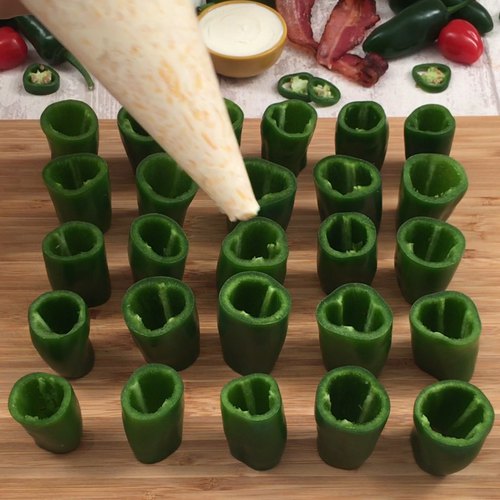 ---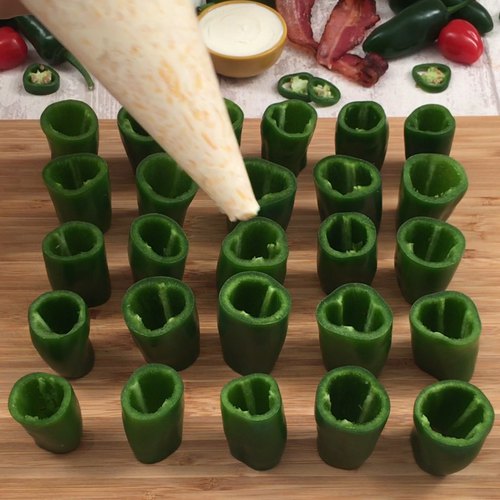 ---
Ingredients for 6 people
20 jalapeños, de-seeded and cut in half
1 1/2 packages of cream cheese
2 cups of cheddar cheese, grated
8 slices of bacon, cooked and chopped
garlic powder
salt
2 pizza doughs
2 cups of shredded cheese, for pizza topping
---
Tools
Oven-safe bowl
---
Step 1/3
In a mixing bowl, mix cream cheese, cheddar cheese, garlic powder, and salt to taste. Put into a piping bag. Fill the halved jalapeños with mixture. Set aside.
Step 2/3
Place pizza dough on parchment-lined baking sheet, place small oven-safe bowl in center. Place second pizza dough on top. Press around the bowl, creating a bowl with the dough. Place half the jalapeños around the edge of the pizza dough at a slight angel. Cut in between each jalapeño, the slice should go through both layers of pizza dough and it should be twice as long as the jalapeño. Roll the top layer of dough around the jalapeño. Place the second half of jalapeños on the second pizza dough, roll them up placing them under the first layer of jalapeños.
Step 3/3
Spread a thin layer of sour cream on the center pizza dough, cover with cheese of choice (we used cheddar and mozzarella), then sprinkle with bacon pieces and the jalapeño trimmings. Fill the bowl in the center with the remaining jalapeño popper filling. Sprinkle with the remaining bacon. Bake at 350 °F for 45 minutes (or until golden brown and jalapeños are cooked through). Enjoy!