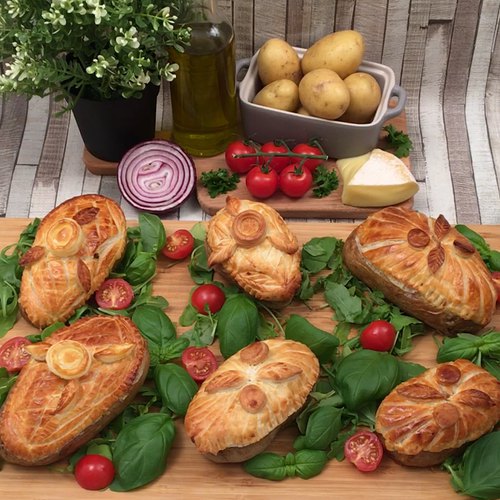 Cheese, Bacon & Potato Pies
A combo that nothing tops. 😁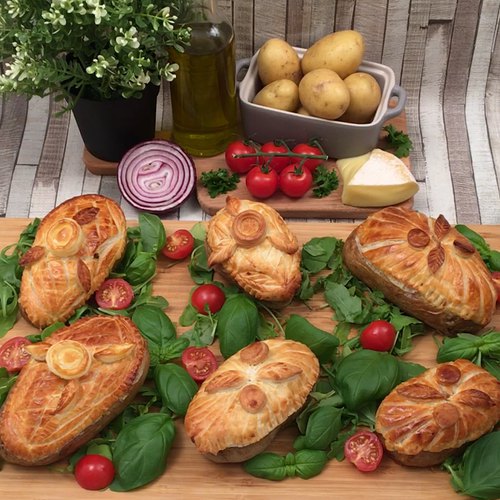 ---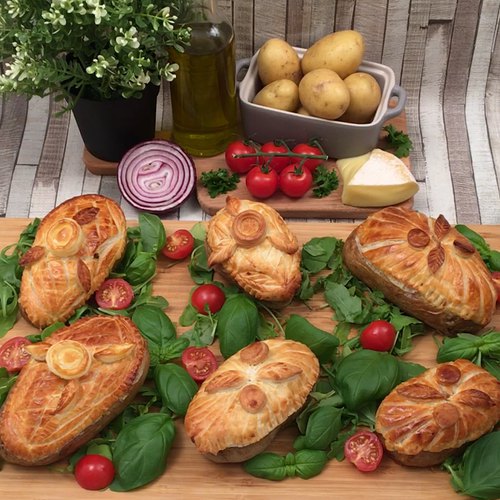 ---
Ingredients for 6 people
6 large potatoes
puff pastry
1 egg
1 cup of diced bacon
1 onion
3/4 cup of white wine
3/4 cup of cream
6 slices of reblochon cheese (or brie)
olive oil
parsley
salt & pepper
---
Tools
Parchment paper
---
Step 1/4
Place the potatoes on a baking tray covered with parchment paper, pour a drizzle of olive oil over them, season with salt and pepper and place in the oven for 45 minutes at 400 °F. When they come out of the oven, place the potatoes horizontally, cut off the top and scoop them out with a spoon.
Step 2/4
Place the turned potatoes on the puff pastry and cut the pastry around the potatoes. Brush the ovals of dough thus obtained with beaten egg and then draw shapes in them with the tip of a knife to decorate them.
Step 3/4
Grill the bacon with the chopped onion and then add the white wine and cream. Bring to the boil then add the removed potato flesh. Fill the hollowed out potatoes with the preparation.
Step 4/4
Place 1 slice of cheese on each potato. Cover all the potatoes with the oval of dough and seal well. Decorate the ovals with small leaves and small discs cut from the scraps of dough. Place in the oven for 25 minutes at 350 °F, then eat!
Similar recipes from Chefclub
-
Our other recipes