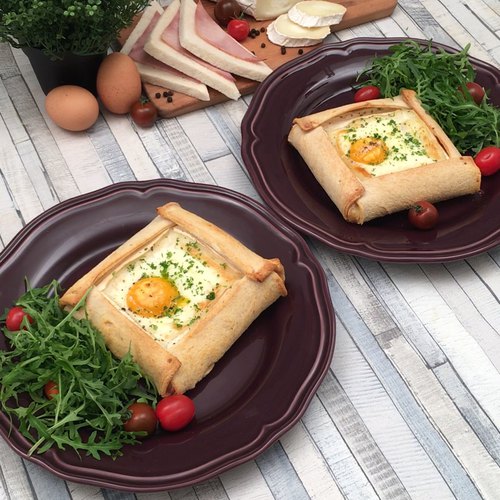 Goat Cheese Toasties
These squares aren't for squares. 💪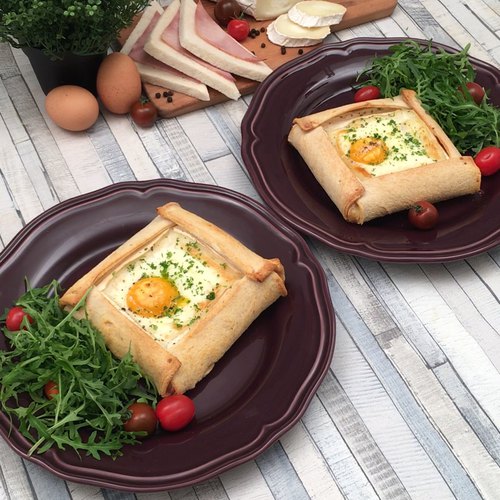 ---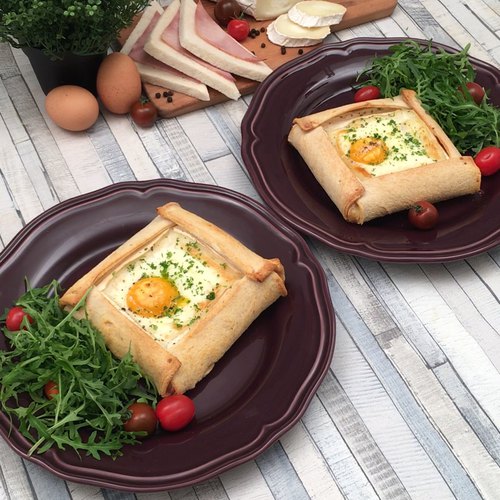 ---
Ingredients for 2 people
6 slices of sandwich bread
2 logs goat cheese
4 slices of ham
2 eggs
melted butter
parsley
salt & pepper
---
Tools
Baking tray
Parchment paper
Toothpicks
---
Step 1/4
Place 2 slices of sandwich bread on top of each other, overlapping slightly. Cut another slice in half and place them on either side of this rectangle. Flatten this sandwich bread cross with the rolling pin to stick the slices together. Repeat with the other slices of bread and place them on the baking sheet lined with parchment paper.
Step 2/4
Cut the goat cheese logs in 4 lengthwise. Remove a small triangle of cheese from each end of the goat cheese pieces so that they can be nested in a square. Arrange the goat cheese squares on the bread crosses.
Step 3/4
Fold the sides of the sandwich loaf over the goat cheese squares and hold them with toothpicks. Place 2 slices of ham in each goat cheese square and crack an egg in it as well.
Step 4/4
Brush the edges of the bread with melted butter and bake for 15 minutes at 350 °F. Remove the toothpicks, sprinkle with chopped parsley, salt and pepper, and enjoy!
Similar recipes from Chefclub
-
Our other recipes