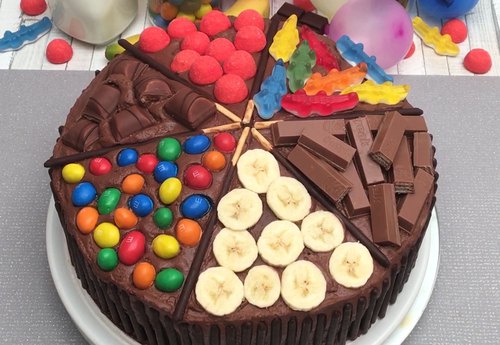 Multi-Cake
Six different cakes in one... everyone is happy!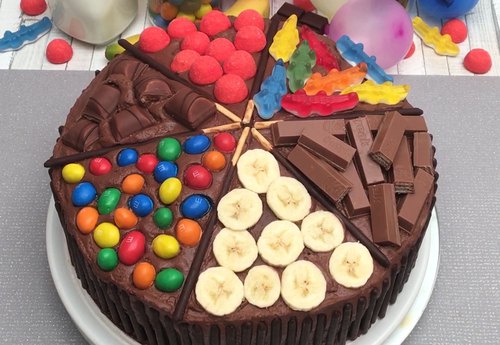 ---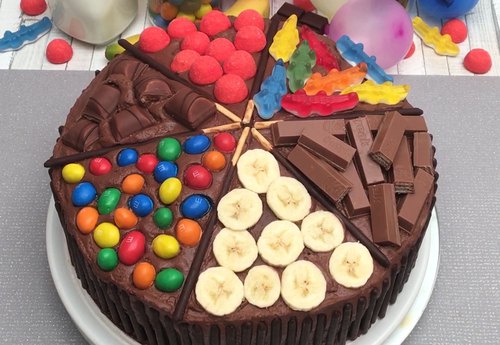 ---
Ingredients for 6 people
1 cup of plain yogurt
1 1/3 cups of sugar
2 cups of flour
2 tsp of baking powder
1/2 cup of cocoa powder
2 1/4 cups of heavy cream
2/3 cup of powdered sugar
3 eggs
1 1/2 oz of gummy crocodiles
1 oz of strawberry candies
1 pack pocky sticks
4 kit kat bars
5 1/2 tbsp of chocolate hazelnut spread
2 chocolate
2 1/2 oz of m&ms
1 banana
---
Step 1/4
Cut 3 pieces of cardboard of the same height and length as the cake pan. Cover them in aluminum paper and make a notch in the center. Assemble them in a star in the pan.
Step 2/4
Mix the yogurt, sugar, flour, eggs and the baking powder until you have a smooth batter. Divide the batter in 2 parts and incorporate the cocoa powder in one. Alternating triangles, pour the two batters into the mold you have created. Bake for 25 minutes at 350 °F.
Step 3/4
Mix the cream and sugar together, then beat them to make whipped cream. Delicately incorporate the chocolate hazelnut spread. Remove the cake from the oven, remove from the mold, and let cool. Once cool, cover in the chocolate whipped cream.
Step 4/4
Decorate the edges of the cake with the chocolate part of the Pocky sticks. Outline the 6 pieces with the remaining sticks. Slice the banana and decorate each triangle with a different candy, then place the banana on the last triangle. Enjoy.